Last updated on : July 11th, 2022 by R Yadav
The startup ecosystem has gained the support of governments and markets globally, with frenzy investors acting as the enablers of the capital in-flows in these companies. The startup ideas in the fields of healthcare and education are preferred bets for most investors.
When the idea of disrupting a market that caters to both healthcare and education, was created by edtech startups, a new set of unicorns were formed. These edtech companies are using artificial intelligence to make online nursing education and medical courses interactive, easy to learn, and accessible on smartphones. And come with varied other real-time features that help trainee doctors and nurses study and prepare for their licensure exams.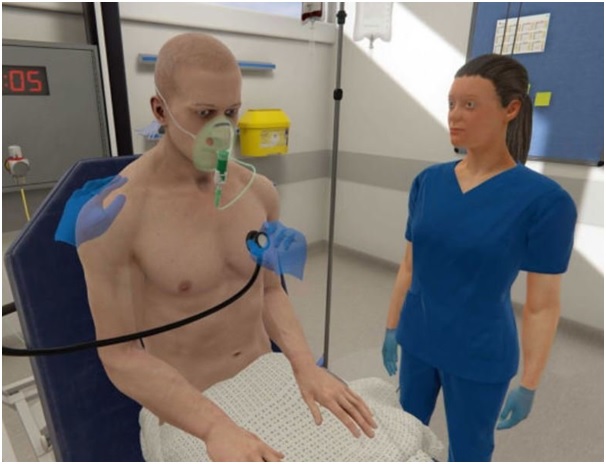 Scores of bright students join nursing and med schools with an intent to develop skills to give the best clinical care, help patients combat disease, and elevate their pain through medical procedures. But their enthusiasm is sidetracked. Once they start school they find it difficult to balance schools, lectures, clinical rotations, and the need to clear the license exams within the stipulated attempts and with a good score.
Transformation in healthcare education is required at both pedagogical and organizational levels. However, these changes are dependent on the decisions of varied academic boards and schools. But at a technological level, many edtech companies are bringing in a seachange of features that ease the preparatory pressure for aspiring doctors and nurses. They are enabling future doctors and nurses to learn for the sake of knowledge and not just clearing the exam.
Artificial Intelligence is used to create simulated models that can teach clinical topics concisely and effectively. Long topics are broken down to bite-size information that can be recalled by way of smart quizzes. These quizzes can be answered in apps that are accessible through smartphones. The answers are auto-corrected in real-time. Such features save both time and energy for both the student and the educator. And the ability to learn from anywhere helps in utilizing the white space that was otherwise wasted when moving across halls or elevators.
Neural networks are used to give BI dashboards that determine the areas where a learner has to focus to clear a practice exam for the USMLE or the NCLEX. These features are critical and will help the examinees ease their nerves, as they can tackle their problem areas. Gamification of the learning concepts helps in longer retention for the learners, as the actual procedure is recreated through 3D modeling.
Now let us check out five such edtech startups that are transforming the way future physicians and nurses will prepare for their exams and learn their course content:-
Touch Surgery
Touch Surgery's app offers simulation-based surgical procedures with patient history, case background, and learning outcomes complete with the minutest details for the exact surgical tool that needs to be used. Currently, the app offers more than two hundred procedures across various specialties. This is one app that even seasoned surgeons are using to stay focused. The company has partnered with Microsoft and has currently raised over a hundred million in funding capital.
2. Lecturio
Lecturio is an online nursing education provider which is closing the knowledge gaps through thousands of interactive videos on the topics covered in USMLE and NCLEX exams. High-quality HD videos explaining the content on various topics like anatomy, pediatric, radiology, cardiology, oncology, and other important health topics are covered. It uses cloud computing to make the lectures available on any device, making them accessible for the end-users. They use a learning technique that uses spaced repetition to increase the retention of the course content. Spaced learning with smart recall quizzes are some of the features that help nurses and physicians prepare for exams.
3. GIBLIB
GIBLIB uses video content to deliver course content relevant to nurse practitioners, physicians, and surgeons. They have partnered with various medical content specialists like Mayo Clinic and Stanford's Children's Hospital to deliver their content and improve their outreach.
4. Amboss
Amboss has an online medical library that can be accessed by the members from any device, for any topic in a few seconds. This idea was initiated by a group of final-year medical students in 2012, who felt that they were spending more time trying to search for information than learning it. They created an online medical library that is cloud-based and can be accessed from anywhere.
5. Cyberpatient
Cyberpatient offers educational content related to health through gamification and virtual reality. Learners can fail without bearing the consequences of their failure in absolute terms as the patient is a simulated mannequin and not a real patient to be experimented upon.
Many other companies are foraying into the space that these start-ups have pioneered. The advantages offered to the end-users who are future doctors and nurses are many. Hence there is a potential market that is attracting new bidders.
The necessity of reducing the pressure of searching for health-related content is reduced to seconds in comparison to hours or even days. The lectures are in bite-size capsules emphasizing learning techniques for longer retention. Self-assessment of the understanding happens in real-time.
Although technological transformations in healthcare education are being welcomed by the overworked doctors, there is a need for schools and accreditation boards to measure up. Until the very problems in healthcare education are extrinsic and are only recorded but not recognized by the accreditation bodies, the real solution will not surface.
It is time that nursing and med schools not only recognize the need for a technological sweep in education deliverance but make these features available for their program takers. When a university partner with a health information technology company then there can be outcomes that can benefit both sides through such synergies.
When doctors and nurses can focus on gaining knowledge and expertise as against living under the pressure to clear challenging exams, then the care will be truly patient-centric. Easing the learning experience for healthcare providers will be very fruitful and an important step in improving the standards of patient care and experience.
Read Also: How is it Beneficial for Entrepreneurs to Shift Businesses Online?