Last updated on : November 3rd, 2022 by R Yadav
3D Printing Software: What Is It?
A 3D printing software is a program that is used in creating 3D models and transforming them into a format understood by a 3D printer. That is, a G-code. 3D printers then use these G codes to create physical models.
Various paid and open-source 3D printing software on the market allows designers to generate complicated designs quickly.
Unlike traditional manufacturing methods, 3D-printed components and prototypes may typically be generated in hours rather than days or weeks. This enables businesses to progress through design cycles more quickly and efficiently.
How Do I Use 3D Printing Software?
3D printing software includes design automation, slicers, computer-aided design (CAD), and computer-aided manufacturing (CAM) technologies, as well as other tools that facilitate the 3D printing or design process.
Users can use CAD software to create complicated models that can be cut into delicate layers and used to lay out instructions for printers. Because of the widespread usage of 3D printing in industry and production, 3D printing software developers have added capabilities to facilitate electrical and mechanical design integration.
Today, 3D printing has made it easier to build lighter, more effective parts faster (and at a cheaper cost) than old methods, from airplane parts to medical devices.
Uses of 3D Printing Software
Even in fields where it was impossible just a few years ago, 3D printer modeling software is gaining popularity. We have compiled a list of common 3D printing CAD software applications.
Education: Students can learn more about science and design topics by using 3D modeling software and 3D printing software.
Manufacturing: Online 3D printing software solutions can produce a prototype much faster and at a lower cost than traditional methods.
Healthcare: In the healthcare field, 3D printing software has many applications. It is, in effect, for bioprinting, which is a process for creating artificial structures that mimic human tissue. Prosthetics and implants are also popularly created with the program.
Jewelry Designing: 3D design software can aid in the creation of complicated jewelry designs in 3D for a more holistic perspective.
Food Industry: 3D printers are used to produce prototypes of specific tools required to prepare and store packaged food in the food industry.
Best 3D Printing Software
1. SelfCAD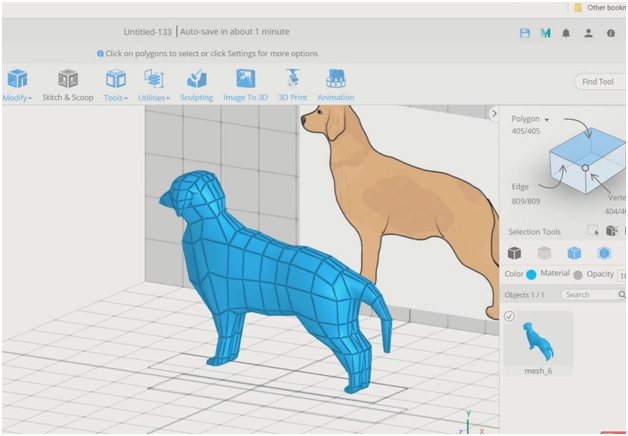 SelfCAD is an easy-to-use and powerful character-creator software used by professionals and beginners. It comes with an in-built slicer that one can use to prepare their designs for 3D printing without switching to another software. The slicer of SelfCAD supports most of the commonly available FDM 3D printers.
SelfCAD is the only 3D modeling software that has combined technical, artistic, and 3D printing tools into one simple package. It's smooth to use, and it has various powerful tools for rendering, freehand drawing, as well as sketching tools. If you're looking for a simple-to-use 3D printer in 2022, SelfCAD is a good option. You can see the duration it will take to print your product as well as the size of the material needed.
This slicer can be downloaded or used online. It may be employed to prepare both basic and complex things for 3D printing, and it assures that the 3D printed designs are of good quality.
Best For: Due to its user-friendly interface, SelfCAD is ideal for newcomers to 3D design. Professionals can also use it to prepare complex designs using the program's advanced features.
Characteristics:
Compared to traditional CAD software, SelfCAD allows you to build models, sceneries, and 3D designs in less time.
SelfCAD was created with a simple interface in mind, making it simple to use for beginners.
The tools are grouped according to their purpose, making it easy to find any device.
The software has sculpting tools for producing organic shapes, simple animation capabilities, rendering software, and architectural tools such as freehand drawing and sketching features.
Pricing:
Yearly: $149.99
Monthly: $14.99
Perpetual Licence: $500
2. Autodesk Fusion 360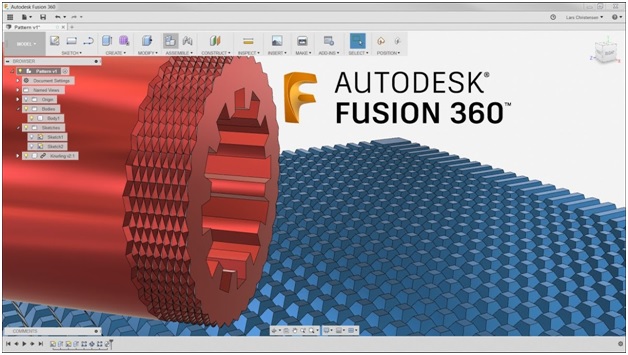 The Autodesk Fusion 360 software tool for 3D printing is among the most powerful on the market. Mechanical engineers, designers, and machinists find it to be one of the most popular products on the market.
The best thing about it is that it combines the power of design, engineering, and manufacturing seamlessly into one platform. In addition, it streamlines the product development process to deliver high-quality products more quickly and smoothly.
Best for: Amateurs and professionals who want to make parts quickly.
Characteristics:
Database centralization and cloud cooperation.
Generative design solutions with a lot of features.
Rendering technologies and photorealistic visualizations.
Machining and milling.
PCB system with 16 layers.
Assembly sessions that are interactive.
Pricing:
With a monthly plan, you'll pay $60.
With an annual plan, the cost is $42/month.
With a 3-year plan, you'll pay $38 per month.
3. Ultimaker Cura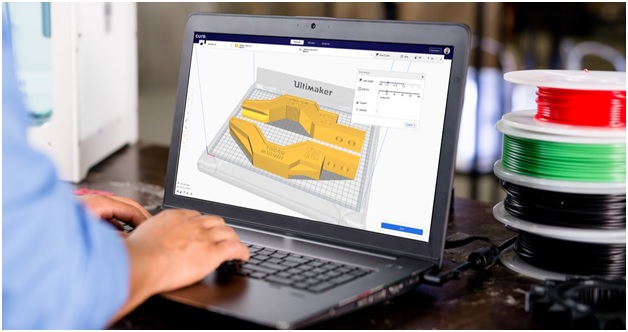 Using Ultimaker Cura, a 3D printer can be precisely controlled using open-source software. By using its recommended mode, it delivers relevant information services for new users.
In addition, its customization mode offers highly configurable features to meet a variety of needs while providing in-depth control.
Best For: CAD printing for beginners who want to check out a free tool and learn more about the process.
Characteristics:
They offer a pre-configured print profile as well as a custom mode with over 400 options.
Remote Printing.
Integration of CAD plugins with Autodesk Inventor, Siemens NX, and SolidWorks.
OBJ, X3D, BMP, JPG, 3MF, PNG, GIF, and STL file types are all supported.
Cons:
Known for poor support control.
There is a long wait for 3D models to be printed.
Pricing:
It is open-source; it's completely free.
4. SketchUp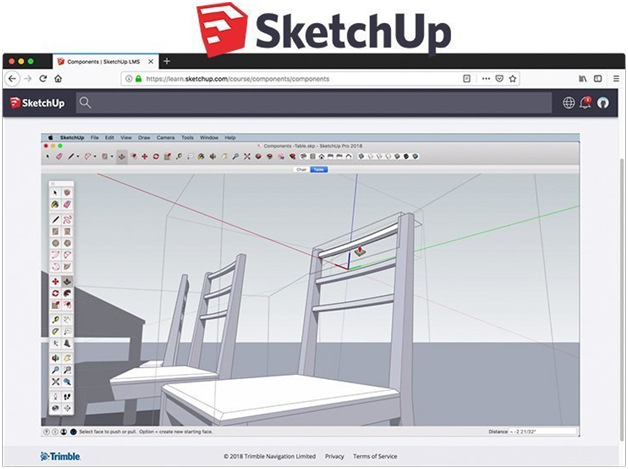 SketchUp Free, formerly known as SketchUp Make, is another web-based CAD program that creates 3D models that can be printed on any commercial printer.
SketchUp Make can be used for simple shapes like architectural or interior design, as well as more complicated usage like visualizing big machinery and equipment elements. Because it exports to several other file kinds, including STL, SKP, and PNG, this software is ideal for dealing with other types of CAD software.
Although this free CAD software lacks some of the features included in its premium equivalent, it still offers a robust set of capabilities. The free version comes with mobile device viewing, 10 GB of cloud storage, and an integrated 3D warehouse where you can get design ideas from user-generated models.
Best For: Beginners and aspiring 3D printing modelers will benefit from this.
Characteristics:
Core modeler is accessible through the internet and uses 10 GB of cloud storage for enough storage.
Interoperability: This feature allows you to import and export PNG, JPG, and SKP files.
Pricing:
SketchUp Free is a web program that is available for free. The following are the paid versions:
The SketchUp Shop costs $119 per year.
SketchUp Pro costs $299 yearly.
SketchUp Studio costs $699 annually.
5. Creo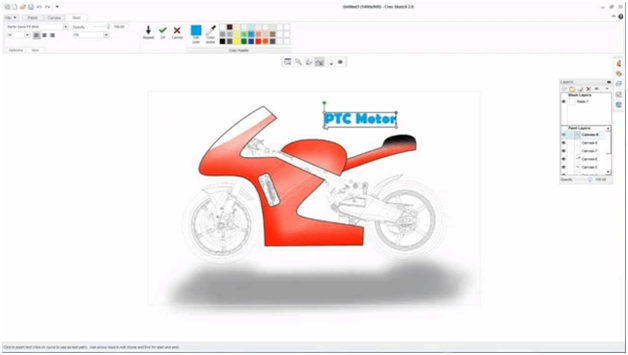 Creo is a robust CAD solution for product developers and designers. It comes with cutting-edge tools and features that help you create and develop products more efficiently. This 3D printing software has an easy-to-use interface that allows users to quickly model and visualizes their ideas.
Creo's in-built slicer makes it simple to create STL files and convert them to printed objects. This CAD tool supports generative design, real-time simulation, additive manufacturing, and augmented reality.
Best For: Startups and small enterprises wishing to bring their ideas and tools to life should take this into consideration.
Characteristics:
AR tools and solutions will empower staff and workers, including Vuforia Instruct, Chalk, Studio, and Engine.
Industrial Internet of Things software to improve productivity and IoT application deployment.
CAD software that allows for direct modeling and the creation of augmented reality tools for better products.
Creo is a CAD-based platform featuring data analytics, management, and collaboration features.
Cons:
Some systems are incompatible.
Individuals and non-product designers are not advised to use it.
Pricing:
There is a 30-day free trial available. Following that, there are several price plans to choose from:
Essentials: $2,200 – $2,700
Advanced: $3,980 – $4,900
Advanced Plus: $10,300
Premium: $14,375
Premium Plus: $20,000
Conclusion:
We have covered almost all of the greatest and most popular 3D printing software that will be quite useful. In 2022, all of the above 3D printer software has been tested and shown to be great for learning 3D design. You can select the one that appeals to both beginners and experts! Which one are you going to pick? Let us know in the comments section!
Read Also: HOW TO TRANSFER YOUR ANDROID PHOTOS TO A WINDOWS PC