Last updated on : March 24th, 2022 by R Yadav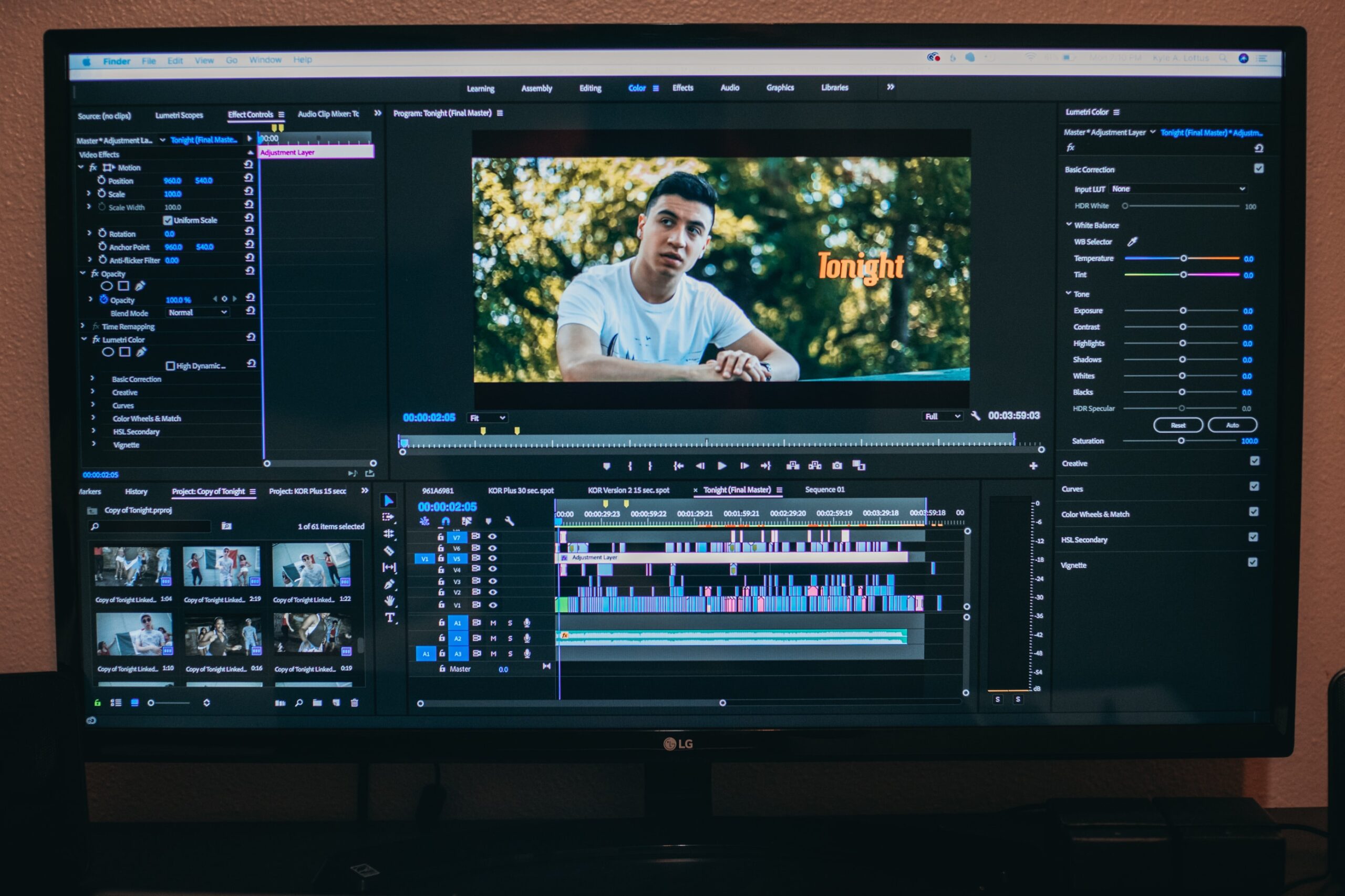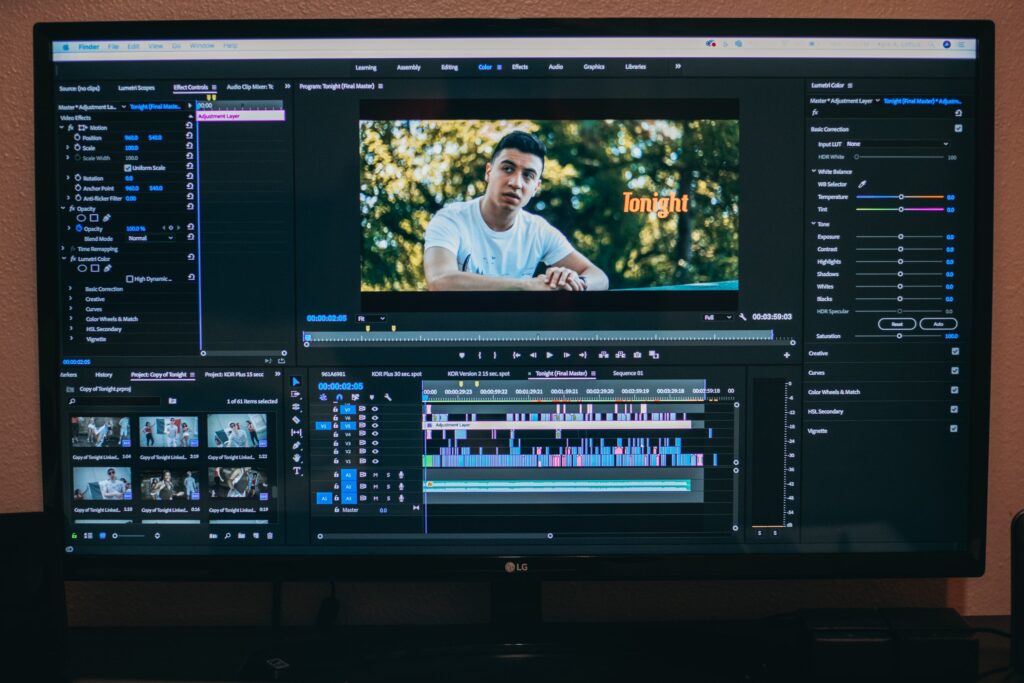 Visual Content is trending now. For brand promotion, for vloggers and YouTubers, for anyone delving into the World of Visual creation, you must have access to the best video editing software. However, if you are just starting and wish to try your hands in video editors, there are plenty online you can access for free. Most video editors are made to be compatible with various operating systems and the constant updates in technology have amped these up for you to create professional sleek videos. Indeed, paid video editors have a greater range of editing tools and options which you'll need in the advanced levels.
However, here's a list of the top 5 free video editors in 2021 to test your skills. Refashion your brand or content with this great software and explore the wide assortment of convenient features, without having to pay a penny.
1. DaVinci Resolve
This video editor is not just for beginners but advanced videographers as well. In fact, it has been used for advanced motion productions, including in the Hunger Games. Color correction, mastering audio, adding motion graphics, editing can perform several functions in this editor. Although the many features can be too overwhelming for immediate beginners, DaVinci Resolve does well enough amidst paid video editors and is an excellent video editor which can be used for actions like Multicam editing or advanced trimming. DaVinci Resolve supports Windows, Linux, and Mac but works better in high-powered devices. The UI is quite friendly and makes working with video editing more organized than hefty. With the paid pro version, you can enjoy more excellent features and produce films of finesse with this sole video editor.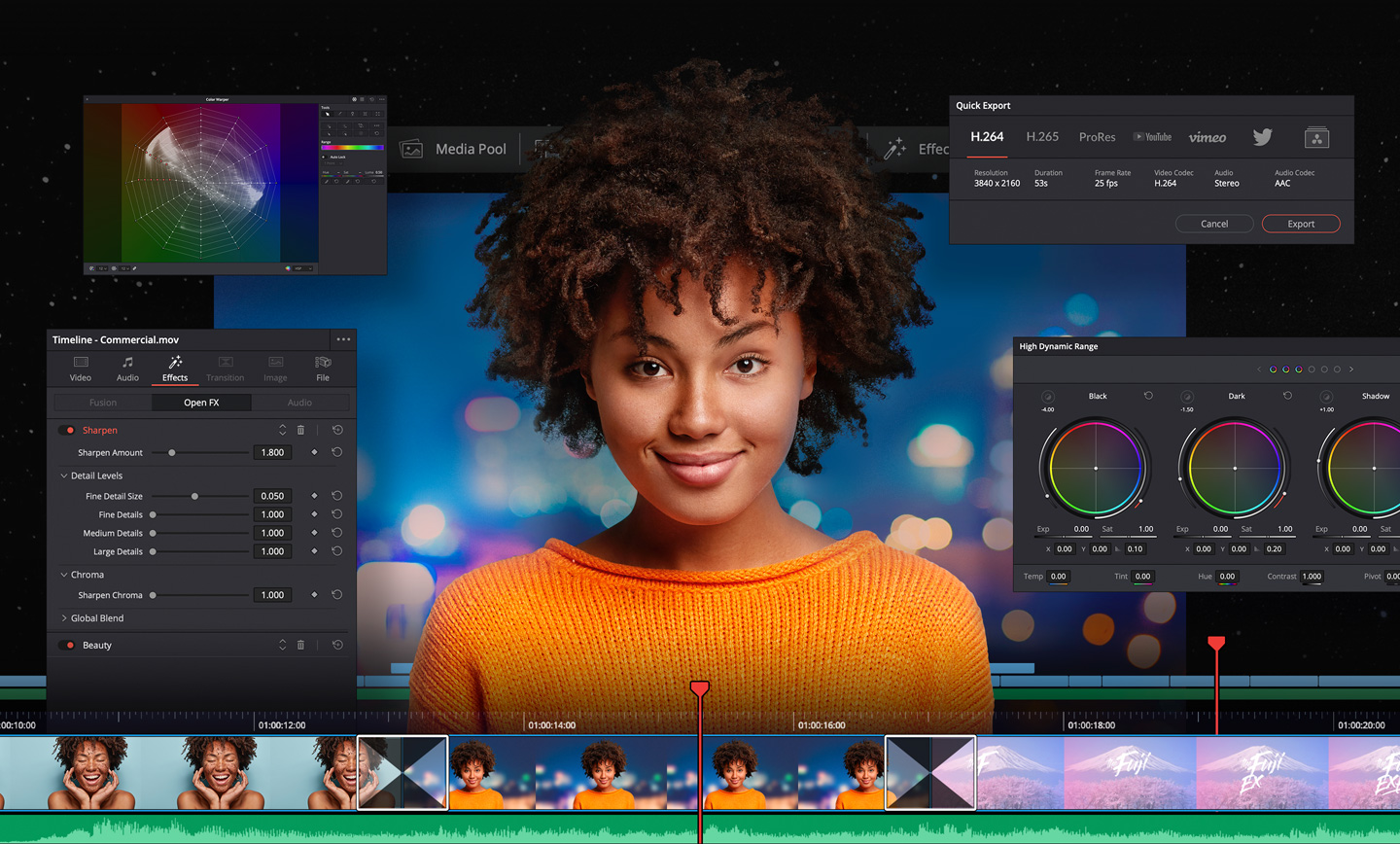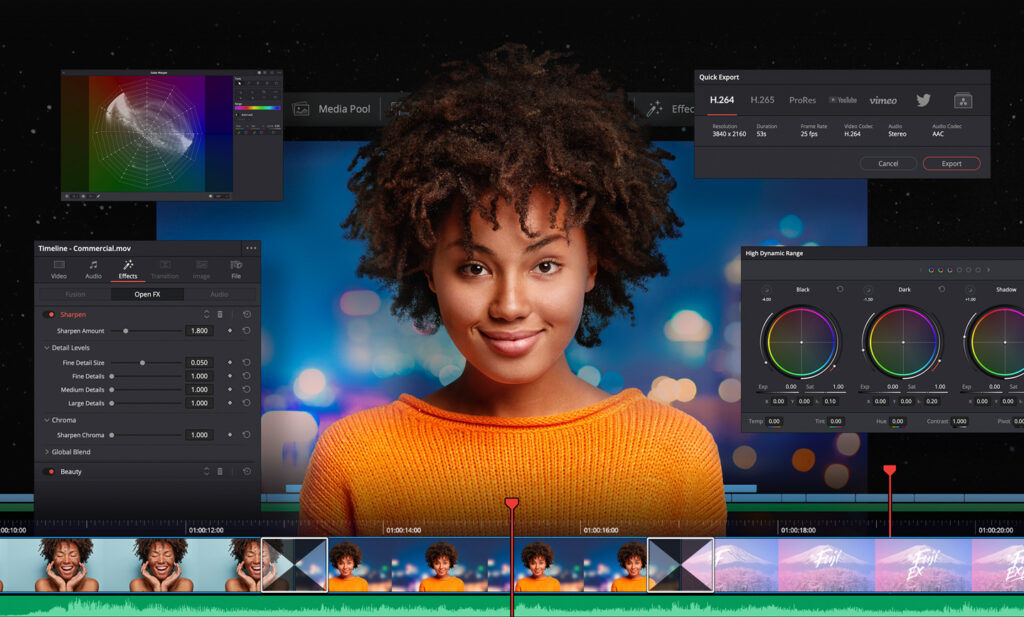 2. Blender
Blender is not just limited to video editing and can also be tried for modeling or animations. This software is compatible with all Windows, Linux, and Mac platforms and can be used for many video editing functions for free. This platform is one of today's most popular in the industry among beginners in video editing. Splicing, video cuts can easily be made on Blender's video editor. But you can also try out your hands at more complex options like video masking or color grading and more. There are 32 slots available for you to add video clips, pictures, audio, and other mixes into your content. For 3D animations, the options are perfect and more than plenty. With Blender, you can test out further cool features like mixing of audios, controlling speed and transition, audio scrubbing, adjustment layers, keyframes, and more. The user interface of this platform is simply great and you'd be welcomed with several instructional exercises to help you polish your skills. Blender also lets you create simulations and games and its many attributes are great, if not overwhelming.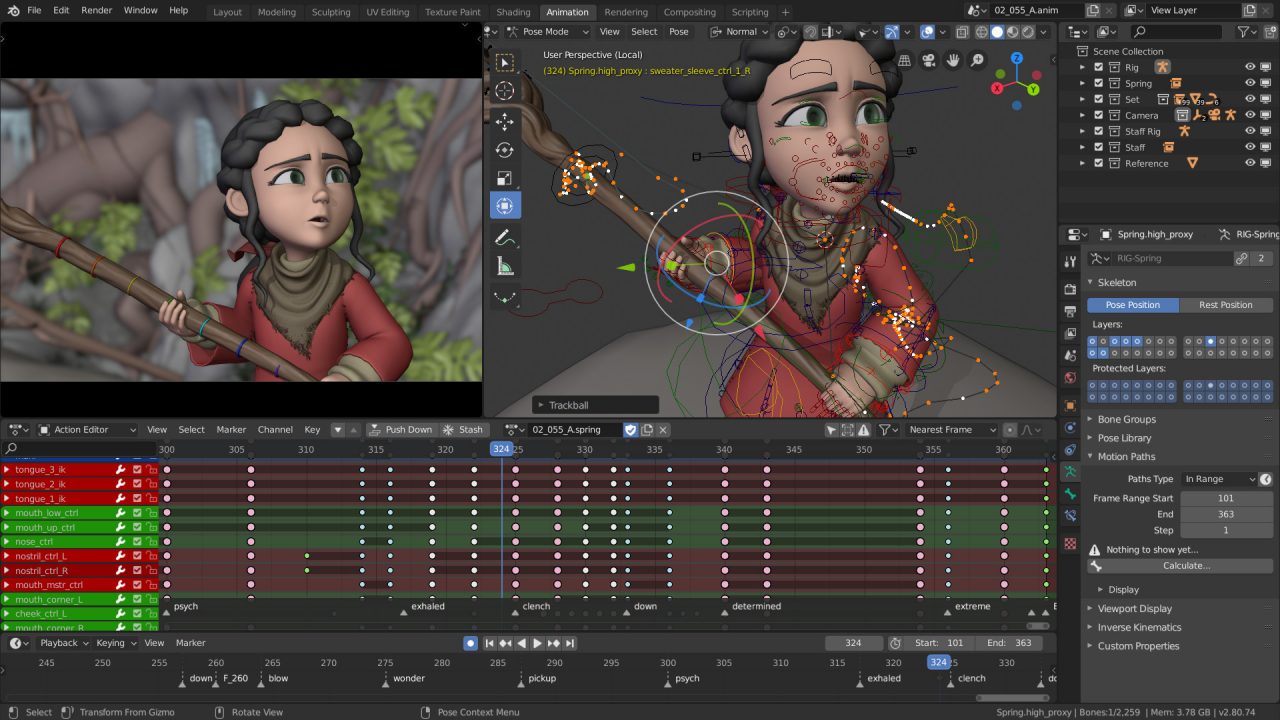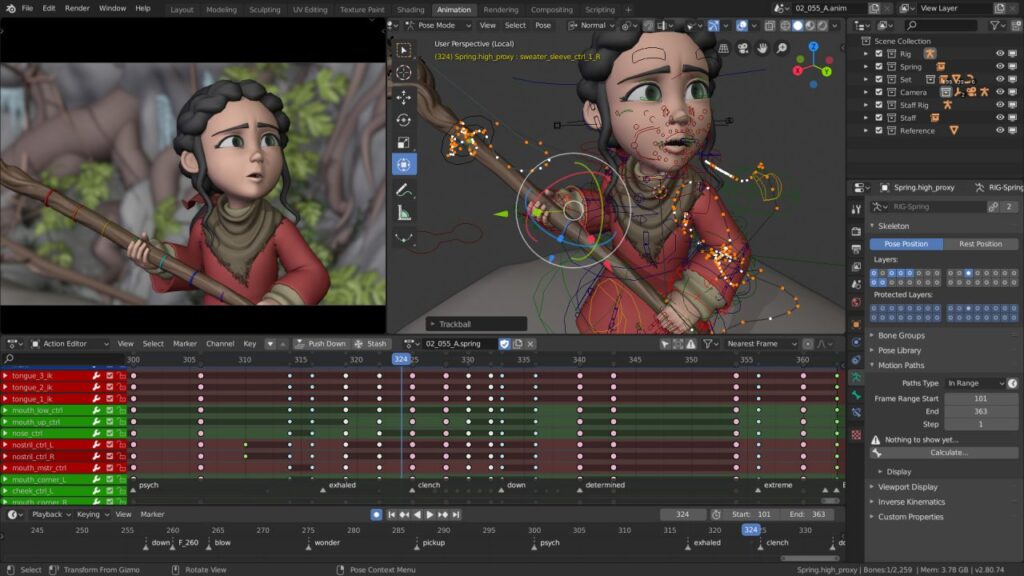 3. Lightworks
Lightworks is a great editing software compatible with all windows, Linux, and Mac platforms. The free version features video editing functions that are more than enough to create solid brand marketing content. Supporting a large range in video formats, including 720p for YouTube, Lightworks also features multi-camera sync support. When setting up the software you'll find a series of well-detailed instructional videos that will help you better the workings of the editor. The precise video trimming options aid in creating great quality videos. You can also work on group projects with this application through its real-time sharing attribute, however, only the owner will have access to editing. Another convenient feature of this platform is the fast export of content to most social media and other shared platforms quickly and easily. Moreover, when working on your project, you can work in many licensed audios, pictures, and video clips that you can use in your visual content creation.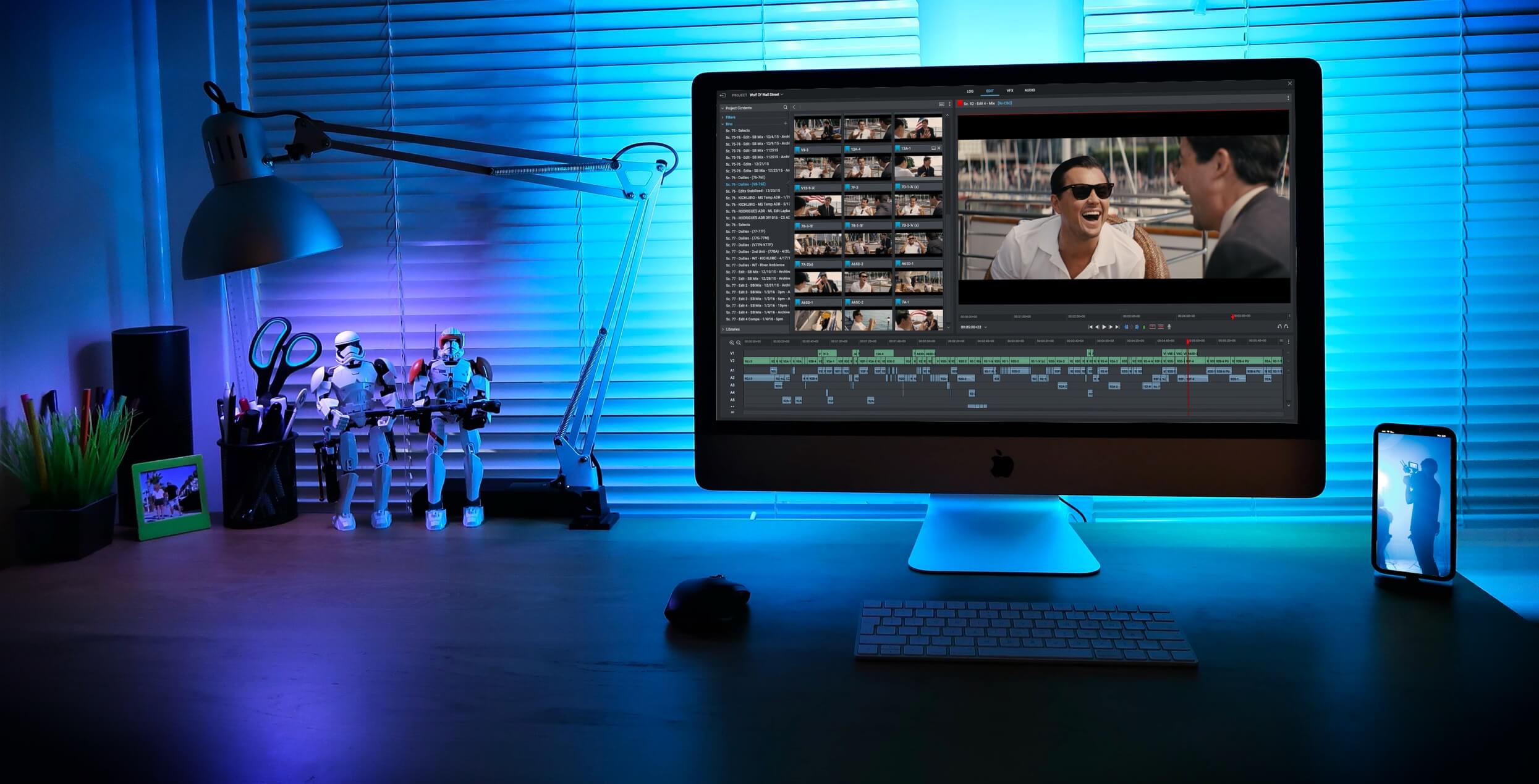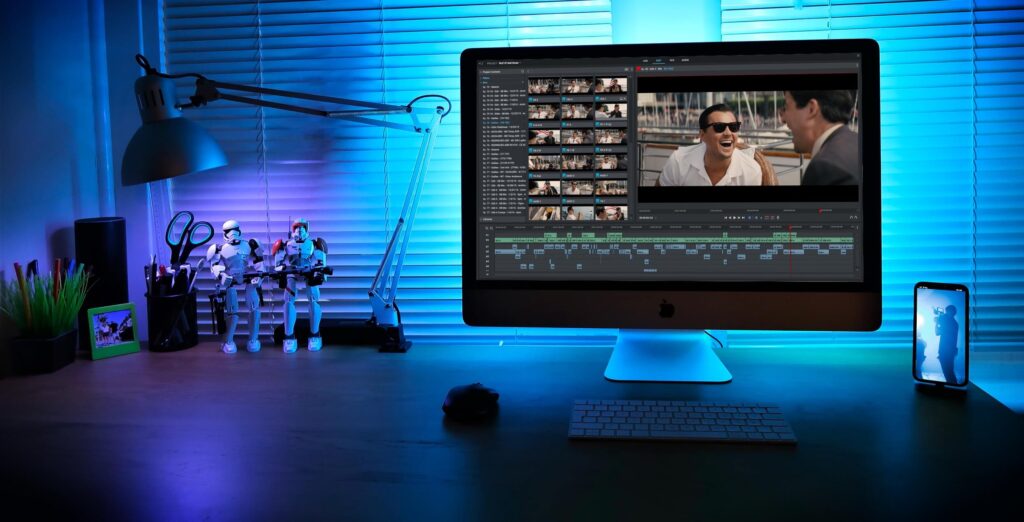 4. WeVideo
WeVideo, unlike Blender, does have premium paid plans for advanced editors. However, there's plenty you can work with for free. It's a shared social platform where you can create your video content by adding videos, pictures, audio, and features of your own from your device or social media and cloud application such as Facebook or Dropbox. You can also make use of fitting clips, pictures, and more that are built in the software and use them to create your desired content. There are many free audio clips and sounds you can use to mix into your video. Supported by multiple platforms, android, Windows, or iPhone, you can make use of the free plan in WeVideo for functions like splitting, trimming, overlays, snazzy transitions, adding markers and texts, adding background graphics, and more. This is a common platform that attracts many video creators of different backgrounds including teachers, who use it for presentations or simply to make students aware of video editing techniques through its essentially helpful lessons.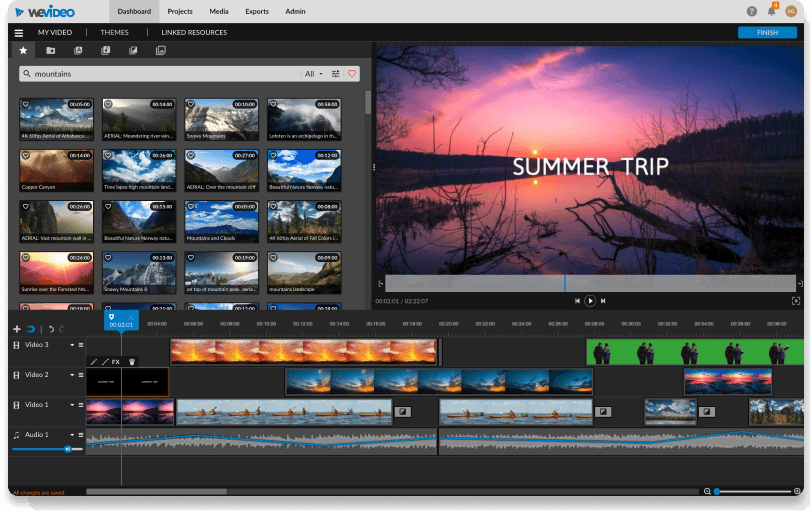 5. Clipchamp
Clipchamp is a large platform for video editing where millions of people come together every day to create videos – educational, brand, or for creative expression. You can use it for simple functions like trimming, transitions, or cropping as well as to perform more complicated actions. Apart from video editing, you can use Clipchamp to record webcam videos or even for compression of already made video content. It is easy to work and its UI reduces the work time significantly especially for beginners. Edit your videos, add texts, desired backgrounds, and perform complex green screen functions, all for free. The paid version does offer some enhanced features, however, even in the free version you can use several licensed audio and video clips into the mix. You can use 4k videos but in the free one, exporting videos is limited to 480P SD. Create your video and export them to your computer or to any desired platform in whichever ratio you prefer. For beginners, the built-in instructional guide comes quite in handy.
These 5 video editors are quite useful, more so for beginners. Take your videos for corporate or creative purposes and paint them in a better light with these, taking your video editing skills to the next level.
Author Bio: Harsh Swami has been specializing in Digital Marketing & Content Development and currently works as the Digital Marketing Executive at Ubuy India. A dynamic individual with a passion for writing on various topics like home remedies, internet technologies, computer programming, etc. Loves to travel and explore different places. Believes in sharing knowledge with people and enlightening them about great solutions for common issues.
Please read also: CW Assignments Review: Expert Assignment Help Service