Last updated on : December 10th, 2020 by R Yadav
VPNs are so easy to use and setup that anyone can do it without any technical expertise. Learn how you to use a VPN to improve your online security, protect your privacy, access blocked content, and digital freedom, and much more.
Are you new to VPN? "No worries – everyone has to start somewhere!"
Don't worry, At TechFeral, we are here to help and brought a short guide on What is a VPN and where to find the safe and reliable best VPN for free as well paid one.
If you still wonder what a VPN is, how it works, where you can use it and which one to choose, you've come to the right place. And please don't bother about the technical parts!
Let's begin, shall we?
What is a VPN (Virtual Private Network)?
Virtual Private Network (VPN) is a type of private network based on the backbone of a public network such as the WAN (Wide Area Network) or the Internet.
In today's digital world of 24x7 always-online work culture, the majority of users of this concept or technology are organizations of the mid to large sizes and segments that use VPN to allow remote offices and employees to connect securely to their private network, using conventional Internet connections (public or private or leased line circuit).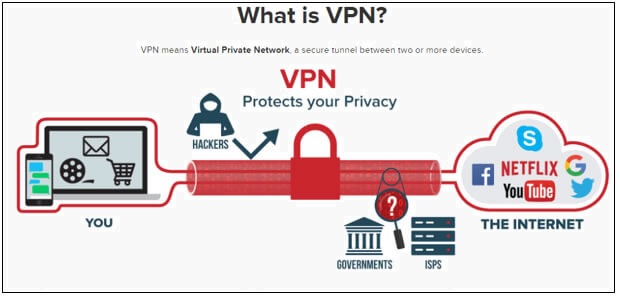 The concept of VPN originated from two requirements:
1 - To replace conventional private lines with financially viable technologies that allow connecting people or employees and business units at a low cost.
2 - Use old and less secure communication networks sharing data or information more securely.
If you think as a free-mind internet user like you and me, let have a look at How do things work in practice?
VPNs are very useful in many online kinds of stuff. Not only VPN do provide better security and privacy for you and your devices, but they can also help you avoid censorship and access geographically blocked content on the Internet from anywhere.
Let's have a few cases of practical life:
Case 1:
If somebody wants to access Netflix USA from abroad or watch television broadcasts from other countries, or simply be an advocate of an Internet without borders, a good VPN with an excellent list of servers and high speeds will completely open up new worlds of entertainment to enjoy it.
Unblocking Netflix, Amazon Prime Video, BBC, Hulu, and Other Geo-blocked Contents.
Case 2:
Most organizations use VPNs so that their employees can commercial applications, access files, printers, and other resources on the VPN network through secure remote access.
other cases:
In addition, many people who value your privacy, like to use virtual private networks to minimize exposure and stay protected from the many threats that can be found online.
Simply needs a way to avoid censored content in their country or geographical restrictions on transmissions and services abroad.
Whatever the case, the bottom line is that VPNs help improve the freedom of access of Internet use.
Why do we need a VPN service?
A virtual private network (VPN) gives you privacy, encryption and protection online by creating a private network from a public Internet connection or over an unsecured Wi-Fi access point.
VPNs mask your Internet Protocol (IP) address so that your online actions are virtually impossible to track.
Browsing the web or making transactions over the internet anonymously and privately.
The encryption and anonymity that a VPN provides help you to protect you from online activities like online buying, sending emails, or paying bills.
Mask your location- By using Virtual Private Network, you can select the country of origin for your Internet traffic.
Access blocked websites: VPN can bypass the restriction or censorship imposed by governments and you can access blocked websites easily.
Virtual Private Network Security:
Security over the network is the main reason why organizations are using VPN for years. VPNs use advanced encryption protocols and secure tunnel techniques to encapsulate all online data transfers. The constantly evolving security threats and the growing dependence on the Internet make a virtual private network an essential part of integral security.
Integrity checks ensure that no data is lost and that the connection has not been hijacked. Since all traffic is protected, VPNs are more preferable compared to proxies.
How a VPN (Virtual Private Network) Works?
Let's have a look at how your connection to the Internet would work if somebody uses a VPN for internet connection: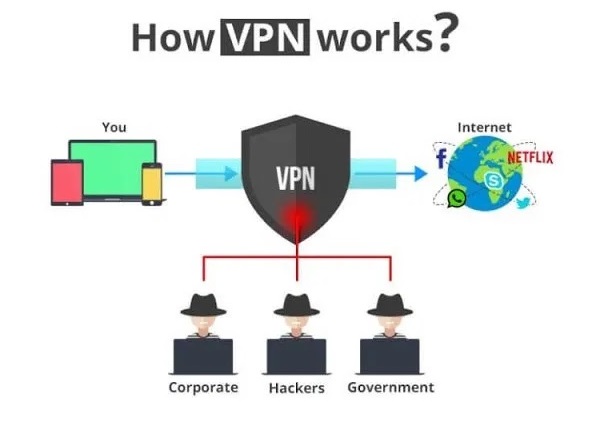 To use a VPN service, he or she has to uses a VPN app to connect to a VPN server through a VPN tunnel before you are exposed or have access to the public web. Incoming traffic is sent to your device through the VPN server and the client through the private networks over the internet. That is the essence of how VPN connections work.
As an encrypted "tunnel" is established between users pc and the VPN server, your ISP (or anyone else) cannot sniff your traffic and data online. In addition, the VPN server will replace your IP address (provided by ISP) with a new one, once the connection is established, effectively hiding your geographic location online.
In general, unlike accessing the web without a VPN, doing so with a VPN guarantees that you can enjoy private browsing, the peace of mind of knowing that your personal information is protected and unrestricted access to any content (since hiding your IP address means you can avoid annoying firewalls and ISP blocks).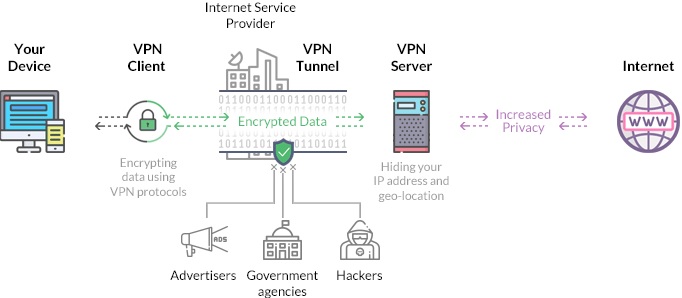 Here is a brief overview of the entire VPN process:
Use the VPN client or app to connect to a VPN server. When you do that, the client begins to encrypt your data.
The VPN client establishes a connection to the appropriate available server through ISP and configures the VPN virtual secure "tunnel".
The VPN server replaces your IP address with yours (hides user's geographic location), begins to decrypt the data it receives from users and routs its connections to the web.
Once the VPN server receives the online data you requested from several web servers, it encrypts and returns it to your device through your ISP.
When the VPN client receives incoming traffic from a VPN client, it decrypts it for you.
Setting a VPN on your PC and smartphone
Setting up a VPN is a simple process. It is often as simple as entering a username and server address. Dominant smartphones can configure virtual private networks using PPTP and L2TP / IPsec protocols. All major operating systems can configure PPTP VPN connections.
On PC or Laptop:
There are two ways of installing and configuring VPN in the PC or Laptops-
1. Downloading and installing VPN setp.exe file and installing on PC.
2. Or you can install a VPN extension in the browser (Chrome, Safari, Firefox, etc) itself.
On smartphones or tablets or i-pads:
Download VPN apps form app stores and simply install them.
One of the most important parts is to choose the correct VPN protocol. The number of protocols and security features available continues to grow over time. The most common protocols are:
Most VPNs use one or more of the following protocols: PPTP, L2TP, SSTP, IKEV2, and OpenVPN. In general, you can easily switch between them through the configuration menu.
As a general rule, use OpenVPN whenever possible: it offers the best balance between speed and safety.
How Does a VPN Guarantee Privacy of end-user?
You may wonder how you can enjoy complete anonymity when your VPN provider basically replaces your ISP as the watchdog of your Internet traffic. That is a valid concern, and the answer is that you can never be 100% anonymous, even with a VPN.
No-Logs Policies:
It is crucial to understand that privacy is not equal to anonymity, and there is a big difference. No matter what, your VPN provider can view your activity online. Unless it works under a no-logs policy.
Many VPN services with strong privacy promise that your connection and bandwidth data will never be collected, stored or shared. This means that your zero-registration VPN provider cannot delve into your confidential information. In addition, the lack of records will prevent your data from being delivered to the authorities, if requested.
In summary, a non-registration policy is a mandatory feature of any VPN that claims it can improve your privacy.
VPNs vs Proxy Servers
You might wonder why you should choose a VPN instead of a simple proxy server to access geo-blocked content, for example. A proxy server is an intermediary that masks your IP address on the Internet, doing nothing to protect your data. If changing the IP address is the only task you are looking for, a proxy may be a good option.
However, a VPN will change your IP address while encrypting your information. You can consider it as a two-in-one service.
For more information on the difference between the two and decide which one to use, you can consult our VPN vs proxies guide.
VPN and Tor
Tor, also known as The Onion Router, is an anonymous network that sends its data through at least three relays before reaching its destination but has its limitations. That is why if anonymity is particularly important to you, it is a good idea to use a combination of VPN and Tor.
There are two ways to do it:
Tor over VPN
In this model, it connects first to your VPN and then to Tor; in this way, third parties who may be spying on your connection will not be able to see that you are using Tor (which could arouse suspicion).
VPN over Tor
When you connect to Tor first, your data enters Tor, it goes through an exit node and then is passed to a VPN server.
Are VPNs are legal?
The short answer is yes! Citizens in most countries have a legal right to privacy, and VPNs do not violate any laws as pieces of software, so, in essence, their use is rarely illegal.
While VPNs are generally legal, there are several countries that try to actively monitor and restrict them. It is also important to know that, in most cases, it is not about whether you are using a VPN or not, but what you are using it for.
Some countries (such as China, Russia, and Iran) do not prohibit the use of VPN, but there is a catch. Technically, you can only use government-approved VPN services.
This means that approved providers have probably met the requirements against privacy and censorship, which makes their VPN services useless for many.
The United Arab Emirates is another notable example, where the threat of jail is added in addition to the six-figure fines. But, contrary to popular belief, the use of a VPN in this country is not totally prohibited: what is prohibited (and punishes) by law is to use one for "illegal purposes." These range from the game and hate speech to access Skype and Wikipedia, so, as you can see, it is quite easy to commit a crime with a VPN according to UAE law.
Other countries such as Iraq, Belarus, and Turkmenistan go even further by completely banning the use of a VPN. Whether to curb the terrorist presence in social networks, establish political control or simply restrict access to foreign media, the online privacy of citizens in these regions is severely restricted by law.
What is the main takeaway here? With the exception of some extreme cases, the use of a VPN is perfectly legal. However, some countries have unique requirements and restrictions on what VPN to use and what to use them for.
If you are planning a trip to Russia, China or the Middle East, it is important to familiarize yourself with the way VPNs are treated within the legal context of these countries. Otherwise, you probably have problems.
In the market, there is a lot of VPN services are available. Unfortunately, such plenty of options can also be very confusing and difficult to choose the right VPN for you. Don't worry! You can find the right VPN for you if you set your priorities directly. Let us help you with that.
What should you be looking for in a VPN?
It may seem that people get a VPN for " security & privacy and," but such a statement does not really help with their choice. Also, you know that VPNs can do much more for you. The fact is that VPN users are different in their needs and preferences. Now it is clear that it's up to you to find out why exactly you want a VPN.
To surf the Internet and public wi-fi safely and privately
You can opt for low-cost VPN or free VPN service if you are a casual user who needs simple protection without frills, or you can take a look at the best services if you want excellent performance and a host of features. In any case, do not compromise your privacy and be sure to choose a provider of zero records.
To eliminate strong censorship
If you are planning a trip to China, you probably don't want to deal with the Great Firewall there. To avoid VPN crashes and access your favorite websites and services from regions with serious censorship, you need a VPN that offers concealment and stealth settings.
Unlock popular broadcasts
Many use VPN to unblock Netflix from abroad, and that requirement may take priority over any other feature. However, Netflix and other popular streaming platforms have made it extremely difficult for many VPN services to gain access without being detected.
Not all VPNs support point-to-point (P2P) connections on their servers and even some that are not ideal for torrents. What you are looking for here is a good variety of P2P servers near your actual location. And like transmission, torrent is an intensive task of bandwidth, so your VPN must also be fast.
Best top 5 Free VPN Services That Still Works
While it's easy to find a free VPN but finding a reliable one with no hidden costs that really allow you to access Netflix and Torrents, and keep it safe? This is much more challenging. I tested and classified more than 10 VPN services that claimed to be free, to offer you the definitive list of the 10 best free VPNs.
Almost all free VPNs come with a limitation. In most cases, providers will limit their data, bandwidth, connection speed, available server locations and even block it from streaming services.
Short on time? Here's a summary of Best top 5 Free VPN Services That Still Works
NordVPN: Our recommended #1 VPN service which offers first level security and fast speeds with no data limits. Use your money-back guarantee to enjoy it without risk.

Hotspot Shield: Use fast and reliable connections on a server in the US located server with 500 MB of free data every day. That's enough to check emails or update Facebook, but it's not good for streaming.

Windscribe: Take advantage of Windscribe's robust and easy-to-use security interface with 10 GB of free data per month. There are 10 free servers to choose from, but none of them can unlock Netflix.

ProtonVPN: Secure VPN with unlimited data and high-end security features, but only three server locations.

Hide.me: Safe and reliable option that offers 2 GB per month in your free plan. That's enough to broadcast an episode of a television show, but not a movie.

Best top 5 paid VPN Services
RusVPN: RushVPN has one of the best state-of-the-art encryption with high-speed VPN-servers to safeguarding your privacy. One can connect geo-blocked content and streaming services like Netflix, Hulu, BBC player to watch your favorite movies and web series.
It has 390 high performing VPN servers around the globe covering more than 50 countries and 5 continents.
ExpressVPN: One of the best all-round VPN services for privacy, speed, and unblocking.ExpressVPN delivered an outstanding performance in our speed tests and excellent customer service, plus a 30-day money-back guarantee.

NordVPN: Strong security and privacy functions and a reliable network of servers that offer good speeds for transmission and download. Easy to use applications. Includes a 30-day money-back guarantee.

CyberGhost: beginners with easy-to-use applications. A low-cost service good security. Some of the fastest speeds we have seen.

IPVanish: Budget network that has its own servers. Favored by users and torrent of Kodi for its constant speeds.

PureVPN: Offers detailed support documentation on how to overcome most internet restrictions imposed by the state.One of the best Safe and reliable VPN service.

Summary
We hope this guide has answered all your questions on "what is a VPN? and where to download free VPN online."! Now it is time to choose your free and paid VPN as per your requirement and enjoy a better and safer Internet.
You may also check the latest best VPN solution for multiple devices "Weprivacy-Best VPN for Multiple Devices". You may also like to go through the article stating a quick comparison of products' best VPNs available at a great price.
If you have any queries or thoughts to improve the article, please feel free to contact/ comment in the comment box below. Also, please share the article with your colleague and friends to make internet surfing more secure, safe and enjoy better internet life.
FAQs on VPN
Q1. How much I will have to pay for a good VPN?
Different providers offer different prices for their services, usually between $ 5 and $ 10 per month.
Q2. What is the VPN provider's privacy policy?
As discussed above, you want to make sure that your VPN service provider is committed to maintaining your privacy.
Q3.What is the geographical distance between the VPN server and the server I want to access?
As mentioned, this will directly affect your browsing speed. Keep in mind that when choosing a high-quality VPN provider, you won't have to worry too much about speed issues.
Q4. How many servers does the provider have and where are they?
The server list is an integral backbone of any VPN network and service. The more you have available, the better. Its dissemination is also very important, especially if you need to connect to servers in several countries. Finally, thousands of servers mean nothing if most of them are slow, so make sure the network is adequate by checking what experts and users say.
Q5.How many devices can I use simultaneously?
VPNs are available for almost all major platforms, including desktop computers, laptops, smartphones, and tablets. While some VPN service providers will limit you to one device at a time, others will allow you to simultaneously connect several different devices to their servers at the same time. Pay special attention to this if you need multiple simultaneous connections.
Q6.How good is the customer service of the supplier?
When reading customer reviews and ratings for each VPN service provider, you can choose a provider that responds to your queries or concerns in a timely and professional manner.
Q7.Does the provider offer a free trial?
The best and fastest way to know if a service suits your needs is to try it on your own. For a list of excellent services that allow you to try them for free, check out the best VPNs with free trials.
Q8.Does the provider offer cross-platform support?
To easily use the VPN on any device, find out if the service website offers native customers. If not, you will want to get clear instructions for manual settings; make sure your VPN has them.
Q9.Are there additional features or advantages?
Last but not least, some VPN features are essential, and you absolutely must have them. The main elements of your list are the interrupt switch and DNS leak protection. Others, such as hidden configuration, double encryption, static IP addresses, and split tunnel, can be useful, depending on your needs.
Next topic: What is Cyber Security? Definition, Importance, Best Practices & More