Last updated on : September 20th, 2020 by R Yadav
Best and Free Android Video Editor Apps in 2020: Editing Like A Pro
Video contents are exploding like the universe and it is continuously rising. Especially when it comes to promoting products to customers. Video editing applications are one of the heaviest tasks a device can perform. A bit of video editing can dramatically increase the impact of your video clip or shot. In this short guide, we will see and reviews the "Top 10 best Android app for video editing in 2020" which is very handy if you are editing the videos and photos on a smartphone.
Video editing applications are the best way to edit videos for better quality, such as brightness, contrast, orientation or if you want to add something to make the photos look catchy and more fantastic.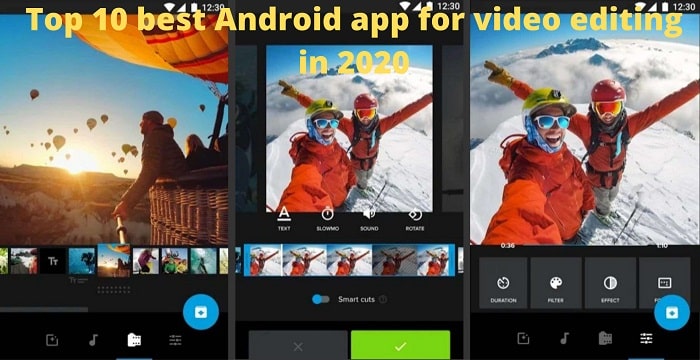 Video editing is one of the heaviest tasks a device can perform. In computers, it requires decent specifications, sufficient RAM, large storage and some basic knowledge on editors how to make it work. Phones do not have the specifications or the power to replicate experiences like Final Cut Pro or Adobe Premiere Pro. However, some applications can do basic things quite well.
A large number of video editing apps are now available that facilitate the capture and editing of high-quality videos. While there is a lot of video editing software available for PCs, free video editing applications for Android smartphones are no less in the Google Play Store.
Read Also: The best top 10 free VPN services for PCs & Laptops (Winodws, and Macs)
Fortunately, there are tons of excellent free or low-cost mobile video editing applications that you can use to create professional-looking videos on your phone or tablet.
Top 10 Best Video Editing Andriod Apps:-
Best Video Editing Andriod Apps
PowerDirector
KineMaster
InShot Video Editor
FilmoraGo
Adobe Premiere Club
VideoShow
Quik
VivaVideo
Funimate
Magisto
Moviemaker
Filmigo
1. PowerDirector:
PowerDirector is one of the most complete video editor applications on this list. It comes with a lot of features, including quick editing tools, various effects, and other tools, and even comes with things like a collage maker and slow motion support.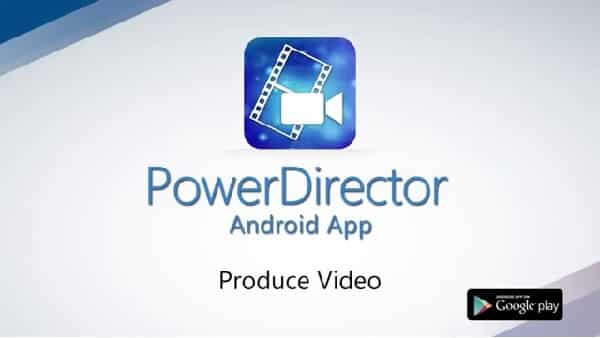 PowerDirector is relatively easy to work with the interface and uses the classic method of timeline editor. It should be more familiar to those who edit videos frequently.
PowerDirector can be downloaded and used for free, but you will have to pay some extra money to get all the features. This is a real video editor, especially for larger screens such as Chromebooks or tablets.
Best Features of PowerDirector Edit and export videos in a resolution of up to 4K. Produce fast forward or slow-motion videos with speed adjustment. Fix unstable footage with a video stabilizer. Edit the background with the green screen editor using the chroma key
Try PowerDirector videos editing app-

2.KineMaster: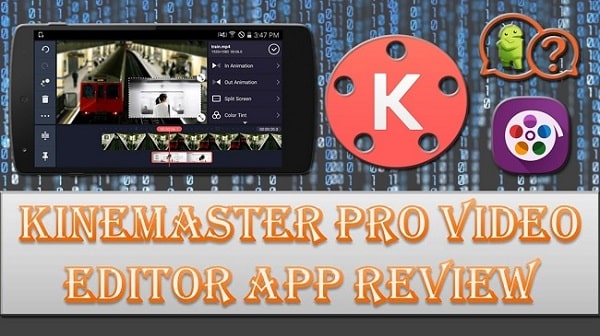 KineMaster is one of the most powerful video editing applications available. You can do the basics like most of these other video editors. However, this includes multiple layers of video, image, and effect. In addition, there are audio filters, chroma-key (for your green screen fans), various video effects, transitions and more.
It is not as powerful as a complete desktop editor. However, this is much closer than most other competitors. We recommend this for real video production (at least for things like YouTube). You can use it for free in trial mode for a while. However, you will need the $ 4.99 per month subscription to get everything forever.
Best Features of Kinemaster Multiple layers of video, images, stickers, special effects, text and handwriting. Invest your videos for a unique look The Asset Store offers music, clip graphics, fonts, decals, transitions and more to improve your video, updated weekly. Export 4K 2160p video at 30FPS. Apply different color filters to make your video stand out. Share on YouTube, Facebook, Dropbox and more.
Try KineMaster videos editing app-

3. InShot Video Editor:
The InShot video editing application is an all-in-one visual content editing application. It allows you to create videos, edit photos and create image collages.
The video editing application also has many features. You can trim clips, change the speed of your footage and add filters, music, and text. You can also flip and rotate footage, which is a practical feature that many other applications do not have.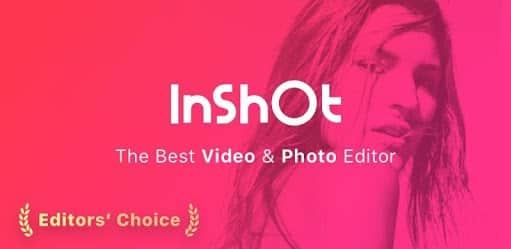 The disadvantage is that you must pay $ 2.99 to remove the ads in the application and the watermark added to the videos. That said, the InShot application is easy to use and has everything you need. This video editing application is perfect for creators who want an application that does everything without too many luxuries.
InShot Video Editor Video Trimmer, Video Cutter & Video Splitter: Trim video and export it in HD quality. Easy-to-use free movie maker and professional vertical video editor for YouTube. Video Merger & Video Joiner: combine multiple clips in one. It is a free video creator for YouTube, Instagram, Musical.ly, Tik Tok, etc. It helps to split, crop and cut videos, combine and compress videos without losing quality. Music, sound effects and recorder: add free music with InShot, Vlog music or your own music.
-Add your own voice to your video, like a recorder.
-Adjust music volume and music fade in / out option.
-Video application with Vlog music. Add music to videos like Vinkle. Video filters and video effects:-Add movie style video filters and full effects like Glitch effect, stop motion, Old TV, RGB, etc.
Try InShot Video Editor videos editing app-

4. FilmoraGo
FilmoraGo is a remarkable video editing application for Android that many users like. All main functions such as crop, cut, add themes, music, etc. They can be done easily. You can also make a 1: 1 square video for Instagram, 16: 9 videos for YouTube, create reverse videos, add transitions, slow motion, text, etc. to beautify your video.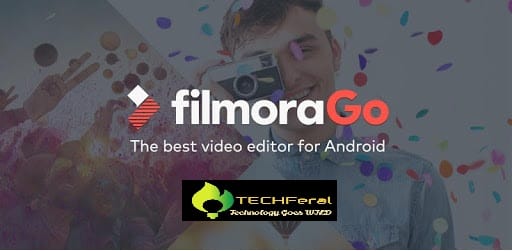 While most of the most useful features are available for free in FilmoraGo, it worth buying and has some in-app purchases for premium features.
In FilmaroGo, someone can save the videos in your gallery directly or share them directly on any social networking site. It has also support for special features like slow motion, overlays, transitions, music, and more.
FilmoraGo Key Features Mix PHOTO AND VIDEO: Import photo and video clips, preview clips in real-time, support imports from social networks such as Facebook and Instagram. AN INCREDIBLE CLICK: Template and stunning effects with a twist. ALL-IN-ONE VIDEO EDITOR: Play in reverse, Play in reverse, Transitions, Text, and full functional titles, etc. PROFESSIONAL EDITION TOOLS: • Reverse playback, Trimming by duration, slow/fast editor, Duplicate, Mute, Rotate, Delete STORE OF EFFECTS IN THE APPLICATION: Free download of new effects, including Filter, overlay and element, Share to download featured effects, In-app purchases: remove the logo, etc. SAVE AND SHARE: share your artworks on Facebook, WhatsApp, YouTube, Instagram, Vimeo, Tumblr, and email, etc.
Try FilmoraGo videos editing app-

5. Adobe Premiere Rush
Adobe Premiere Rush is a video editing application to create and share videos online. Rush is easy to learn and gives you great control over your creations with its motion graphics templates, audio features and the ability to leverage its Creative Cloud and Adobe Stock library.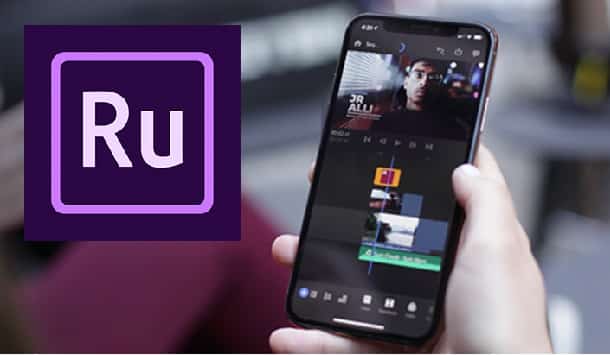 You can capture, crop, change the clip sequence, correct the color, record voice-overs and add color filters and text overlays. With its simple interface, Premiere Rush offers basic tools to create professional-looking videos in an instant.
The video editing application offers a one-click audio mixing function that automatically adjusts the volume of background music during voice-overs and synchronizes projects on all devices.
Adobe Premiere Rush Key Features RECORD, EDIT AND SHARE ONLINE VIDEOS: Create and share professional-looking videos with video effects, such as speed and filters, quickly and easily. Also, work on all your devices: phone, tablet, and desktop. PRO QUALITY VIDEO EDITOR: The built-in professional camera functionality allows you to capture high-quality content directly from the application and start video editing without watermarks immediately. EASY EDITION: Organize videos, audio, graphics, and photos by dragging and dropping. Intuitive tools allow you to crop and trim videos, adjust audio, improve color and add video effects, titles, transitions, voice-overs and more. MULTIPIST CHRONOLOGY: Edit videos using four video and three audio tracks for tons of creative flexibility. GREAT SOUND: Add music to the video, record voiceovers and use advanced tools with Adobe Sensei artificial intelligence technology to balance the sound, reduce noise and dodge automatically.
Cost of Adobe Premiere Rush: $ 9.99 / month plan for individuals. There is also a Startup Plan, which allows users to create an unlimited amount of projects on desktop and iOS computers and export them for free.
Try Adobe Premiere Rush videos editing app-

6. VideoShow Video Editor:
VideoShow Video Editor is one of the most popular video editing applications. It is a simple video editor that allows you to do basic things like crop video, organize your clips and add music.
You will also find some additional features, such as the ability to add emoji and text to videos and a variety of video effects to make things a bit more fun. It is ideal for things like Facebook, Twitter or Instagram, but it is not powerful enough for large productions.
You'll want to see something else for that. The application can be downloaded and used for free with some additional things available as in-app purchases.
VideoShow Video Editor Key Features It is a video editing application and creator of easy and practical movie scenes for both film directors and beginners. HD export, without loss of quality. Easy to use photo editor, with a wide variety of functions. Hundreds of free music with a full license. There are no watermark / no ads after upgrading to the premium version.
Special lenses to make an original video clip.
Cost VideoShow Video Editor: $ 19.99 / license plan for individuals.
Try "VideoShow Video Editor"videos editing app-

7. Quik Video Editor
Quik is another smart way to create excellent videos. It is fast and free. Select any of your favorite photos or video clips to create your own stories with Quik.
The best thing about Quik is that it comes with automatic video creation capabilities. You can trim videos, add effects, texts and quickly sync everything to the rhythm of any music.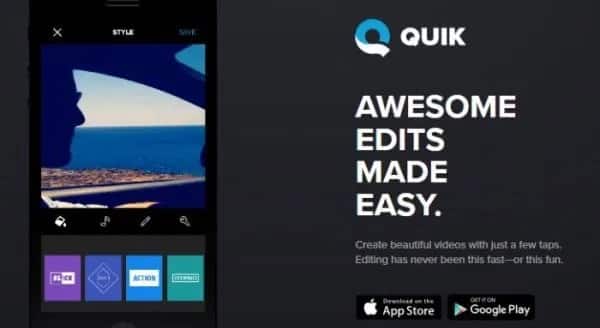 Once you have completed the creation of the video, you can save it on the reel of your camera in 1080p or 720p, or even share it directly on social networking sites.
Quik is reliable and does not show annoying ads. It deserves to appear in this list of the best Android video editor applications for its features and convenience.
Quik Video Editor Key Features ADD YOUR PHOTOS AND VIDEOS: Add up to 75 photos and video clips from your Gallery, Albums, Google Photos, Dropbox, GoPro Plus or GoPro Quik Key. Quik even works with Motion Photos. CHOOSE YOUR THEME: Choose from 23 themes, each with transitions and graphics designed for any occasion. CUSTOMIZE YOUR VIDEO: easily rearrange, crop and rotate photos and video clips. CHOOSE THE PERFECT SOUND BAND: Choose from over 100 free songs or use a song from your own collection. Quik is compatible with MP3, M4A, MP4, MOV, AAC, FLAC, AIFF, and WAV. SAVE + SHARE YOUR VIDEO:+ Save videos in a beautiful 1080p or 720p HD, even at 60 fps.
+ Share on Instagram, Facebook and more, or send a private Quik link via text message or email.
Cost of Quik Video Editor: Free.
Try "Quik Video Editor"videos editing app-

8. VivaVideo Video Editor
VivaVideo has many impressive video editing features. The application is carefully designed to help you create professional-looking videos directly from your Android. You can choose from hundreds of easy-to-use effects ranging from stickers and filters to animated clips and subtitles.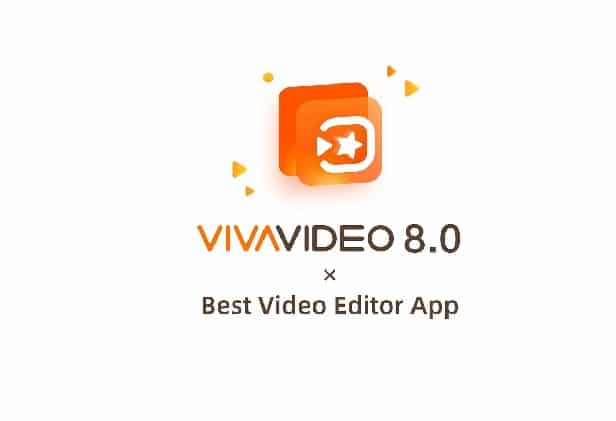 It has a video creator and a built-in slide camera. The essential functions of cutting and pasting videos, trimming, merging clips, etc. They can be easily operated.
VivaVideo has more than 200 million users worldwide and also one of the best video editing applications for Android. You can also directly share your work on different social networking sites.
VivaVideo Editor Key Features Video effects editor: video effects editor PRO: fault effect, transition effects. Edit video for YouTube: the fastest video editing application for YouTube and video editor with transition effects for Tik Tok. Save video and share: - Export video / movie in 720p, Full HD 1080p and 4K. The best movie maker and video editor with all the features. - Save videos to your phone or share them on YouTube, Instagram, Tik Tok. Built-in slow motion video editor. A wide variety of collage templates and themes to choose from. A video collage maker to merge video clips.
Cost of VivaVideo Editor: Free version as well as paid $3.99/ license is available.
Try "VivaVideo Editor"videos editing app-

9. Funimate Video Editor:
The Funimate video editor is perfect for creating fun videos easily. You can instantly transform everyday moments into creative videos and allow automatic exchange options to different social sites.
It has more than 100 advanced video effects that are designed to be a perfect combination for editing short videos. You can even make short videos that can be entertaining.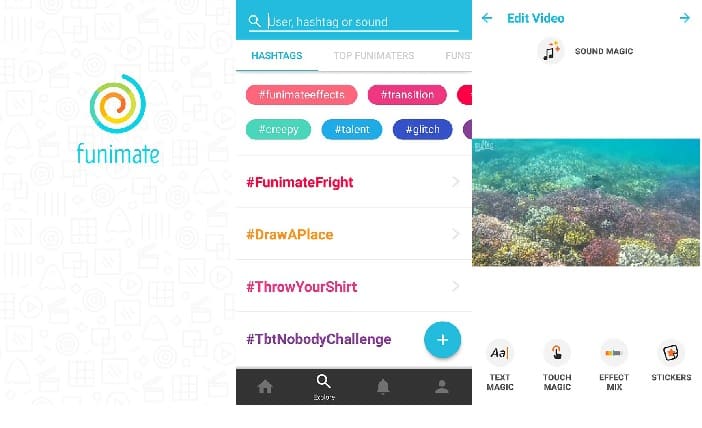 Funimate requires logging in before using the application. You can also get followers and follow other accounts on it. It is one of the free video editing apps, but the ads shown can be annoying.
Funimate Video Editor Key Features More than 100 advanced video effects to make great videos. Feature to make collaboration videos with friends. DIY effects of pre-existing photos stored on your smartphone. A dedicated Funimate video community.
Cost of Funimate Video Editor: Free with in-app purchases plan for individuals.
Try "Funimate Video Editor"videos editing app-

10. Magisto Video Editor
Magisto is an excellent video editing application for those who do not have a formal video editing experience. Combine video clips, photos, video effects, and video filters, music, text to help you make an excellent video without much effort.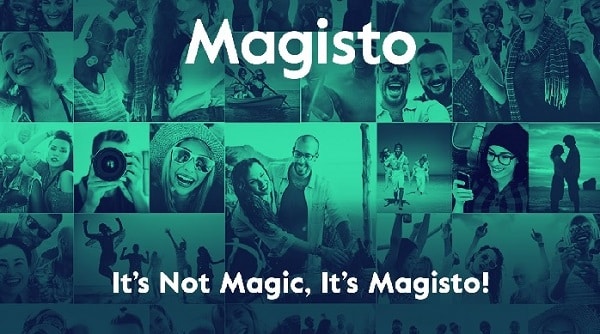 Simply select one or more video clips and a song for the soundtrack and the application will automatically create a video in a few minutes.
Magisto uses a sophisticated A.I. that analyzes the videos and chooses the most interesting fragments. It usually produces an excellent result in the making of videos. This FilmoraGo alternative is free with some in-app purchases.
Magisto Video Editor Key Features Excellent auto-editing function. Direct option to share videos on Facebook, WhatsApp, YouTube, Instagram, Vimeo, and Twitter. Advanced tools for vloggers and marketers.
Cost of Magisto Video Editor: Free with in-app purchases plan for individuals.
Try "Magisto Video Editor"videos editing app-

Next topic: Android 11: Best Features and Release Date