Last updated on : September 10th, 2020 by R Yadav
Ricoh's new startup Vecnos launched 360-degree new ultra-compact selfie camera
"Ultra-compact 360-degree Selfie Cameras Pen size gadget specialized for a new generation of youth consumers"
Back in 2018 when Ricoh decided, as part of its new business development initiatives, to create a team tasked with creating 'specialized cameras for a new generation of customers.' This new team, led by Shu Ubukata ( CEO of Vecnos), proved to be entrepreneurial enough for Ricoh that he decided to turn it into a separate startup, with Ricoh as an investor.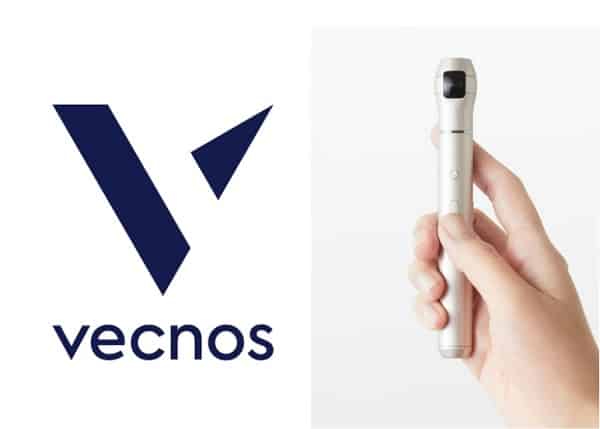 Vecnos, a new startup was announced by Ricoh, which will mainly develop new specialized cameras for youth and new generation consumers especially in the field of selfie cameras. Japan origin-based company Ricoh is already best known for its own range of 360 cameras. Vecnos will be separated from the Ricoh Theta team, which will continue to be part of Ricoh.
Also Read: Realme Smart Band launched in India: Features & Price
Vecnos 360-degree selfie camera:
Though the company has said the product will launch sometime this year we have come up with exclusive details of a new compact camera to be launched by Vecnos. All we know about the still-unnamed camera are some of its design aspects. Vecno said that " First product aims to reinvent the selfie for social media natives" and as revealed by the twitter post given below.
The design of a pen-size selfie camera looks a lot like a fancy Neuralyzer from Hollywood movies like Men In Black movies, but unlike that fictional device, this pen-shaped shooter is meant to keep your memories safe. Two buttons on the grip will operate the four lenses on the wand: three on the sides and a fourth on the top.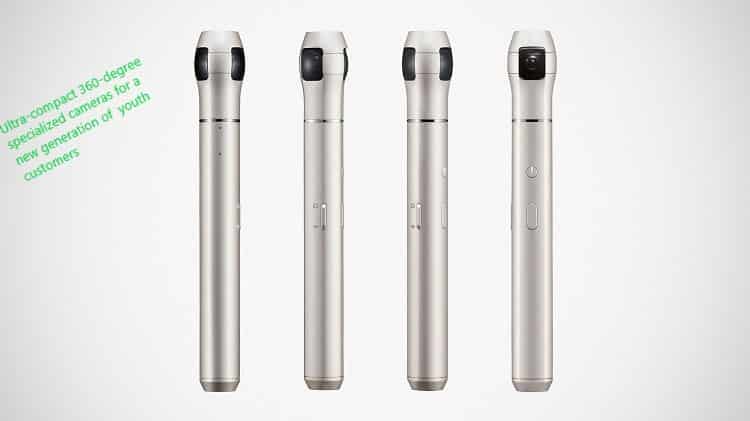 Vecno has not revealed more details on the next camera launch, but when it launches, it will enter a saturated market with a lot of competition the likes of Insta360 One X and GoPro Max and. But the selling point for the Vecnos camera would be its impressive design and Size.
Also Read: Realme 6 & 6 Pro Launched in India: Price, Full Specs, Availability
Everything related to the next miniature camera seems to have been designed to mak the camera size compact and easy to carry. When available, it should easily slide into any pocket, something that is evident in the promotional video the company has shared.
As evident in the previous video, the camera will work with a mobile app so that users "can easily enhance and share their images and videos on social media." If image quality can compete with anything already available on the market, the new camera could even become a very convenient live streaming tool.
The idea behind establishing a new operation is to separate Ricoh's existing portfolio of B2B products from a new range of consumer products under the Vecnos brand, which will be led by Ricoh veteran Shu Ubukata, the man behind the Theta series of 360 cameras. "To make a new product, a new culture, they decided that we should make a new company," Ubukata told Wired. "We are part of Ricoh, but Ricoh decided that we should be very independent as a new company."
Vecnos current CEO Hidenao "Shu" Ubukata stated that "Enabled by advances in technology, combined with new social networking platforms, we are building a new generation of cameras, with our first product designed to reinvent the selfie for a younger consumer. Our objectives are to combine ease of use with advanced capabilities for shooting, enhancing and sharing images, in beautifully and elegantly designed products that people will want to use. We aim to inspire a new generation."
According to the Wired report, Vecnos will focus on a range of user-friendly easy to carry consumer cameras with a pleasing aesthetic especially for a new generation of youth, rather than the clumsy cameras available today.
While details specification, release date, pricing & availability are yet to be revealed form Vecno, it will be interesting to see how things develop and what value Vecno's new selfie 360-degree camera will bring values at what price point.
Next topic: KineMaster Mod APK Download: Fully Unlocked, Premium Version, Without Watermark 2020