Last updated on : September 10th, 2020 by R Yadav
SAMSUNG to manufacture QUALCOMM Snapdragon X60 5G modem chip in 2020
US chipmaker Qualcomm has been at the forefront of developing Qualcomm snapdragon 5G chips for mobile devices. The company expects to continue its operation with the planned launch of an integrated 5G modem and an RF system that can add 5G mmWave and sub-6 bands and include a smaller antenna.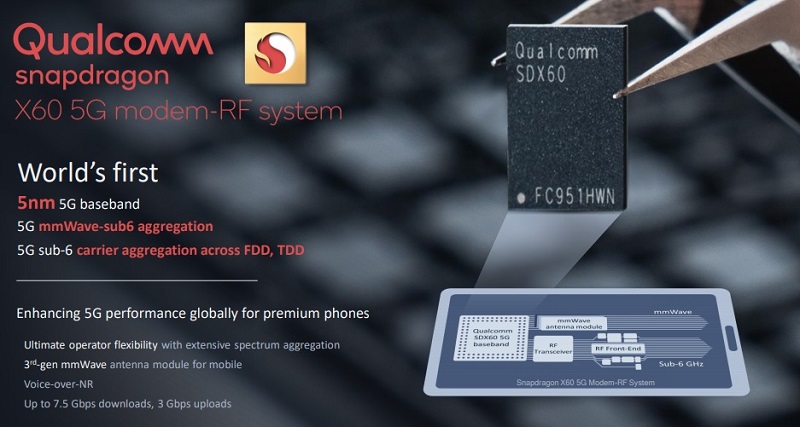 Earlier today, Qualcomm officially launched a third-generation QUALCOMM Snapdragon X60 5G antenna modem solution to the world, namely the Snapdragon X60 5G modem and the RF system. A little later, internal employees of Samsung familiar with the matter said the Samsung Electronics semiconductor manufacturing division won the Qualcomm 5G chip casting contract.
Specifications of QUALCOMM Snapdragon X60 5G:
5G Chipset: Qualcomm® Snapdragon™ X60 Modem-RF System |
5G Peak Upload Speed: 3 Gbps |
5G SIM: 5G Dual SIM support|Cellular Technology|
Cellular Technology: 5G NR, LTE, WCDMA (DB-DC-HSDPA, DC-HSUPA), TD-SCDMA, CDMA 1x, EV-DO, GSM/EDGE|
LTE Technology: LTE FDD, LTE TDD including CBRS support, LAA, LTE Broadcast|
5G Technology: 5G TDD, SA, 5G FDD, NSA
5G Technology: 5G NR|
5G Spectrum: mmWave-sub6 carrier aggregation, sub-6 carrier aggregation (FDD-TDD, FDD-FDD, TDD-TDD), Dynamic Spectrum Sharing (DSS), mmWave, sub-6 GHz|
5G Modes: FDD, TDD, SA (standalone), NSA (non-standalone)|
5G mmWave specs: 800 MHz bandwidth, 8 carriers, 2x2 MIMO|
5G sub-6 GHz specs: 200 MHz bandwidth, 4x4 MIMO|
5G Peak Download Speed: 7.5 Gbps|
Performance Enhancement Technologies: Qualcomm® 5G PowerSave, Qualcomm® Signal Boost, Qualcomm® Smart Transmit™ technology, Qualcomm® RF Gaming Mode Boost, Qualcomm® Wideband Envelope Tracking|
The Snapdragon X60 will be the third generation of Qualcomm's 5G modem integrated with an RF system. The X50 launched 5G and the X55 is being used on the latest Samsung devices. The X60 is designed to scale 5G devices and allow operators to be flexible with the spectrum and optimize performance.
Snapdragon X60 comes with the first 5G 5 nm baseband design. X60 has the ability to add multiple 5G bands and combinations that include mmWave and sub-6 using frequency division duplex (FDD) and time division duplex (TDD).
The modem is equipped with the Qualcomm QTM535 mmWave antenna module with a more compact design. Qualcomm did not mention how much smaller the QTM535 is in relation to its predecessor.
The 5G antenna modem system can offer download speeds of up to 7.5 Gbps with upload speeds of 3 Gbps.
How SAMSUNG won this SNAPDRAGON X60 soc contract?
It turns out that the Snapdragon X60 will be manufactured using the 5-nanometer process of Samsung Electronics. This makes the chip smaller and more energy-efficient than previous generations.
Currently, Samsung Electronics is actively expanding its external foundry business and intends to challenge the industry giant TSMC. Obviously, winning the Snapdragon X60 foundry order helps Samsung get TSMC shares.
Qualcomm Snapdragon X60 launch date:
According to reports, the x60 will be sampled in the first quarter of this year and will begin arriving at the devices in early 2021.
Next Topic: Mi Outdoor Bluetooth speaker launches in India for Rs. 1,399 ($20)
Source: Qualcomm|