Last updated on : August 16th, 2020 by R Yadav
Jio Phone 3 Specifications, Price, Launch Date, Booking & Expectations and other details
Jio Phone 3 is expected to upset the entry-level smartphone in the Indian Market!
Jio Phone 3:
Jio shook the lower segment smartphone and telecommunications market with its arrival back in 2016-17 with the launch of the most popular Jio phones and Jio 4G services in India. And, Jio continues to defy the odds and continues to emerge as one of the leading companies.
The company has successfully lured and gained a large mass of the Indian population by providing users with incredible offers and schemes, but that is not all the company has to offer.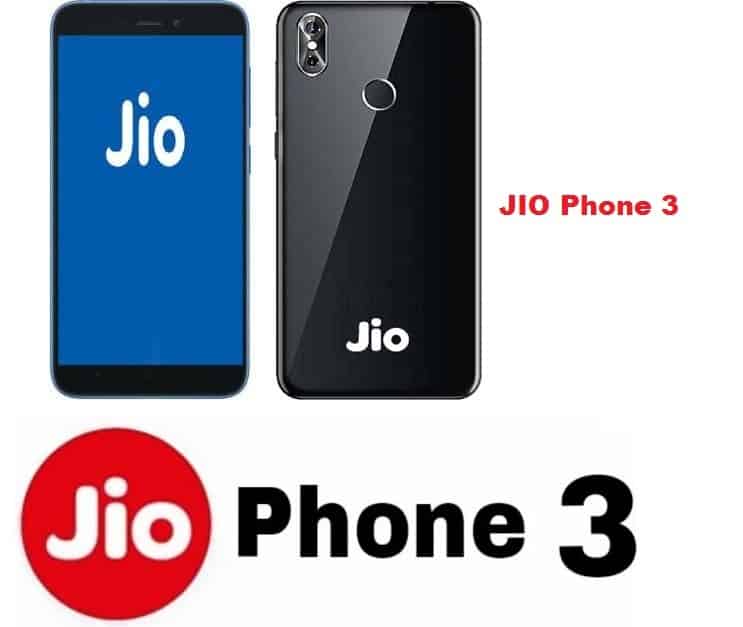 Jio was the 1st brand that launched the first 4g basic phone device with a hard key and at an extremely economical price that lower-income peoples could afford. Subsequently, Jio also launched the Jio Phone 2 back in Jul-2018 at an attractive price of Rs. 29,99 only, which also gained a lot of popularity among users.
To know more on the best smartphone, visit: Best smartphones under Rs 15000 in India for February 2020
Now, it seems that Jio is ready and set to launch the latest version of the Jio Phone series i.e. Jio Phone 3, probably the most anticipated among Jio fans.
Jio Phone 3 Specifications:
Jio Phone 3 is expected to have higher specifications and features with a minimum increase in price. Jio Phone 3 expected to have a 5-inch HD screen with thick bezels. It is powered by a 1.4 GHz processor along with 2GB of RAM. The Jio Phone 3 has a 5MP rear camera and a 2MP front snapper. It obtains power from a 2800 mAh battery.
KeySPecifcation of Jio Phone 3
Hardware
Quad-Core, 1.4 GHz  MediaTek 2 GB RAM & 64 GB Storage
Display
5-inch IPS LCD 720 x 1280 pixels Aspect ratio of 16: 9.  
Camera
5 MP Primary Rear Camera LED Flash 2 MP Front Camera
    Other features
4G Volte 2800 mAh battery Wi-Fi 802.11,b/g/n    
Jio Phone 3 Specifications
Jio Phone 3: Design and features
Unlike its predecessors i.e Jio Phone 2, the Jio Phone 3 has a touch screen interface. To keep the cost under control, Reliance has also removed a fingerprint sensor. The Jio Phone 3 has a 5-inch IPS LCD display with a resolution of 720 x 1280 pixels.
The panel has a conventional aspect ratio of 16: 9. Compared to other phones, the "Jio Phone 3" sub 5k phone has significantly thick bezels. As expected, this budget Jio phone 3 has a full plastic body.
Jio Phone 3: Processor and Cameras
"Jio Phone 3" is powered by a quad-core processor with a clock speed of 1.4 GHz. The phone comes with 2 GB of RAM and 64 GB of internal storage, which is a great update on 512 MB of RAM and 4 GB of internal storage of Jio Phone 2. The Jio Phone 3 also comes with a microSD card slot for storage expansion up to 256 GB.
In the photography department, the phone offers a 5 MP main rear camera on the back. It conforms to a decent 2 MP sensor in the front, which doesn't sound appealing to selfie fans.
Jio Phone 3: Battery, connectivity, and software
The latest Jio Phone 3 comes with a good 2800 mAh battery, which is sufficient for the whole day use. Obviously, "Jio P3" is made to work only with Jio's 4G VoLTE network.
Other notable connectivity features include Wi-Fi, A-GPS (assisted GPS), and Bluetooth. With improved specifications, the Jio Phone 3 leaves the KaiOS in favor of Android Go. It is expected to running on the under Andriod GO program based on the Android9 (Pie) or Andriod 10 operating system, which is still not confirmed.
Reliance JIO Phone 3 Price In INDIA: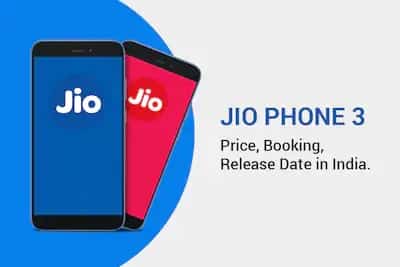 Speaking about the price, Jio users have been eagerly awaiting the launch and price Jio Phone 3. It is expected that the device will be priced slightly higher than the previous Jio Phone 2.
Therefore, the "Jio Phone 3" is expected to be launched at a price tag of around Rs.4,499 only for the storage variant of 2 GB of RAM / 64 GB in the Indian market.
Jio Phone 3 launch date in India:
It is expected that "Jio Phone 3" is scheduled for April 24, 2020. Users have been waiting a long time for this particular device. Like previous Jio Phone devices, Jio Phone 3 will prove to be a great option for users who want a 4G touch screen device at a very low price segment. Jio fans are already excited about the launch of this amazing first JG touchscreen 4G phone.
FAQs on Jio Phone 3
Q1.What are the key features of the Jio Phone 3?
"Jio Phone 3" comes with a 5-inch screen, MediaTek Quad-core processor with 2 GB of RAM and 64 GB of internal storage 5 MP rear camera. 2 MP front camera, Android Go -9 (Pie), 2800 mAh, battery Dual SIM with VoLTE support.
Q2. When Jio Phone 3 is going to lanch?
As expected, "Jio Phone 3" is set to launch on April 24, 2020.
Q3. Does the phone support dual 4G SIM?
Yes, the "Jio phone 3" supports dual 4G SIM with VoLte support.
Q4. When booking of Jio Phone 3 will start?
"Jio phone 3" booking will start after the expected date of launch on 24.04.2020 or afterward.
Next topic: World's First Carbon Fiber Smartphone Arrived: CARBON 1 MARK II