Last updated on : July 2nd, 2021 by S Raange
Is iProVPN worth buying? Head over to this tried and tested iProVPN review for a wider look! We've tested its speeds, streaming access, security & more!
A Virtual Private Network (VPN) is quite a reliable security software. However, not many providers are capable enough to offer the best encryption or performance. The best thing to do is to test the VPN, only then will you know whether it's worth the investment! With that said, in this iProVPN review, I'll be testing the entire iProVPN app to see where it stands.
There are so many issues in the digital space in this day and age. In fact, it has always been there, but managed to rise in numbers with the coming day. Cybercrimes are at its peak, with a higher spike in security breaches, online vulnerabilities, malware threats and much more ever since the start of the pandemic.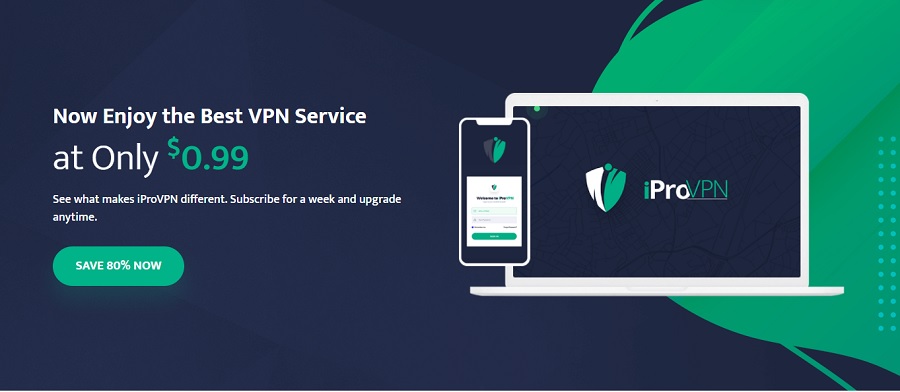 It is one of the main reasons why users are recommended to use a VPN. However, as mentioned above, not everything VPN is reliable and can cause more issues than quick fixes. iProVPN is almost a year old and has managed to receive a fairly good user-base in such a short time.
Although, I believe in testing the VPN first, and then look up other user-reviews; comparing them both. So, let's now move on with the iProVPN review!
iProVPN review 2021 in a nutshell
| | |
| --- | --- |
| Price | $2.1/mo. for 2-year deal |
| Website | Iprovpn.com |
| Refund | 30-days |
| Servers | 250+ servers in 20+ locations |
| Multi-logins | 15 devices |
| Logs | No-logs |
| Location | British Virgin Islands |
If you're not planning on going through all the details in this iProVPN review, this is an abridged version of it, and all that the VPN offers in performance, security, speeds and reliance.
iProVPN is quite affordable, only on the 2-year deal for $2.1/mo. I don't find any other package all that reasonable other than that. It's headquartered in the British Virgin Islands, and displays a strict no-logs policy. It means that the VPN is safe from prying eyes and surveillance laws, which is mostly the case in many other countries around the world.
Speaking of countries and surveillance/censorship issues, there are quite a few streaming services, websites or apps that aren't available to most users worldwide. Luckily, iProVPN can help dodge these issues with its competent servers, even if the list is not all that long. iProVPN offers a little over 250+ servers in 20+ locations.
I ran most of the popular servers through a series of tests, mainly to check the speeds, which by the way were reasonably good, and its unblocking abilities. I managed to get access to some of the best services. To name a few, I got access to Disney Plus, Hulu, Hotstar Netflix, Sky Sports, HBO Now, and more without any lagging issues.
Apart from my testing, iProVPN has managed to snatch a 4.8 star rating on Trustpilot, which is exceptionally good! It goes to show a little about what other users' perspectives were. If you're looking for more details, take a look below.
Is iProVPN expensive?
Not really, but that's mostly because of its 2-year VPN deal.
Before going through other details in this iProVPN review, I believe it is first important to check the price packages of the VPN. It should give us an idea of what the VPN costs in comparison to the features it offers and the overall performance.
So, here's what iProVPN costs:


$10 for the 1 month package
$0.99 for a 7 day trial and $24.95 a year, billed after the first 7 days.
$2.1/mo. for the 2-year deal (Best deal)
If you take a look at the monthly plan, there are other more experienced VPNs that offer the same monthly prices but better performance. So, I don't fully agree with that. However, the 2-year deal makes up for it by being reasonable.
Is there a free trial?
No, there sadly isn't any free trial available. If you take a look at the 1-year plan above, you will see that you will need to pay around $0.99 for a 7-day trial, which will then directly fall into the annual billing schema of $24.95 a year. However, that doesn't mean you won't be able to test the VPN at all. There is still a refund period, which luckily is quite reasonable.
iProVPN money-back guarantee
If you're not willing to pay for iProVPN yet, you could run a few tests using the iProVPN 30-day money-back guarantee and review the VPN on your own. However, make sure to first go through the terms of service before diving in!
iProVPN security suite
How a VPN works to protect your data, connection, privacy and more is very important to take note of, especially if that's what the main function is. I was pleased that despite heavy claims made by iProVPN for offering great security features, they actually did work when tested. The VPN didn't leak any IP, DNS nor webRTC, and cut the internet connection as soon as the VPN connection failed using the Kill Switch feature.
Other than that, here's what iProVPN offers in security:
AES 256-bit encryption
A Kill Switch
Ad-Blocker
OpenVPN, IKEv2, IPSec, PPTP, L2TP, and OpenConnect
DNS and IP leak protection
Split-Tunneling
Unlimited bandwidth
Smart Connect
Malware protection
Does iProVPN log any user data?
No, it doesn't. Most VPN providers make really heavy claims when they say they're 100% no logging, only to find out that it does store a lot of user information and more.
I did a little digging and also went through the iProVPN no-logs policy in their privacy policy page. The good news is that iProVPN doesn't log any user data that is sensitive or confidential, like your IP address and history. They were honest enough to mention that they collected minimal information like your email address, and that is all! It is mostly just for protocol and to stay in contact with the users.
Here is a shot from the iProVPN no logs policy:

iProVPNdevice compatibility
You should choose a VPN that is also compatible with your device. There are some providers that don't offer apps for Firestick or more. Luckily, iProVPN is compatible with all the popular operating systems.
Here is a list of platforms for the iProVPN app support:
Windows
Android
macOS
iOS
Linux
FireTVstick
Chromebook
Routers
Smart TVs
Nvidia Shield
Roku
The apps are user-friendly and easy to install. Plus, if you have more than one device that needs protecting or for other reasons, then you're in luck. iProVPN allows up to 15 multi-device connections.
iProVPN servers and unblocking abilities
Just like some VPN users require their services for online privacy and security, there are others who require VPN services for unblocking or accessing geo-restricted streaming services and websites. The laws in various countries differ, and a VPN can help bypass these harsh rules.
In short, iProVPN offers a very small network of 250+ servers in 20+ countries, but since the VPN is still in the new phase, there's still time to grow and expand. The main focus is that these servers worked for streaming access! There are quite a few platforms that I can't get access to because of the laws, but iProVPN worked out great for unblocking them!
Here're a few that I got access to:
Sky Sports
AE TV
Hotstar
Hulu
Food Network
HBO Now
Amazon Prime
Disney Plus US and UK
DAZN
Comedy central
US Netflix
UK Netflix
To conclude
Now that we're at the end of this iProVPN review, you now have an idea of what the VPN offers and how it worked for me. However, for optimal results you could always test the VPN using its money-back guarantee. Either way, iProVPN makes a great user-friendly VPN. It could use a little more work, but there's still time for future upgrades!
Real Also: Best Free VPN for Chrome Extensions in 2021