Last updated on : December 21st, 2022 by R Yadav
WebP is a new image format that provides lossless and lossy compression for images on the web. This image format can be smaller and load faster than if you were using the source file. However, there are still lots of platforms that need to support Webp files. If you want to make your files easy to view and share, it is wise to use Anywebp to convert Webp to JPG or PNG.
AnyWebp - Free Webp to JPG Converter
If you are looking for a mini-application to convert images, AnyWebP is right for you. It is a free webp converter for the Web, Windows, and Mac. It supports converting webp to jpg and jpg to webp. You will like this free tool if you don't want to waste money converting images. This image converter supports JPEG, PNG, SVG, GIF, BMP, and TIFF files. Its webp to jpg conversion service supports many languages, including English, French, Spanish, and German.
Unlike some image converters, which require the user to download the software first, ILoveIMG is completely web-based and can be accessed from any device with internet access. You don't need to install any apps or browser extensions to use it.
The use process is simple enough. Just upload your webp files to AnyWebP, then wait for the output. With the most advanced image vision algorithms, AnyWebp can use the same amount of space but with better compression algorithms than their original images. It ensures clear picture quality while compressing images.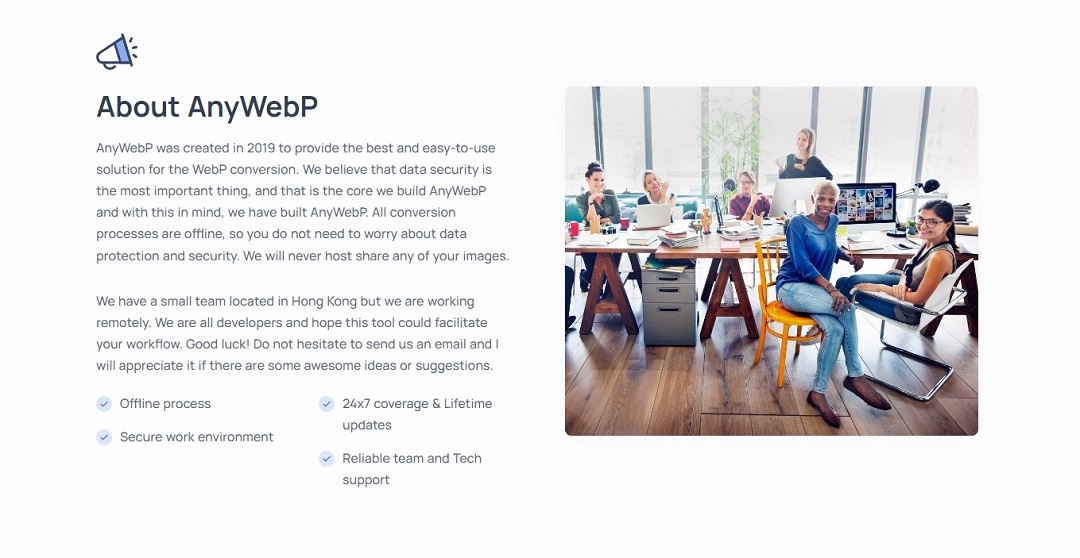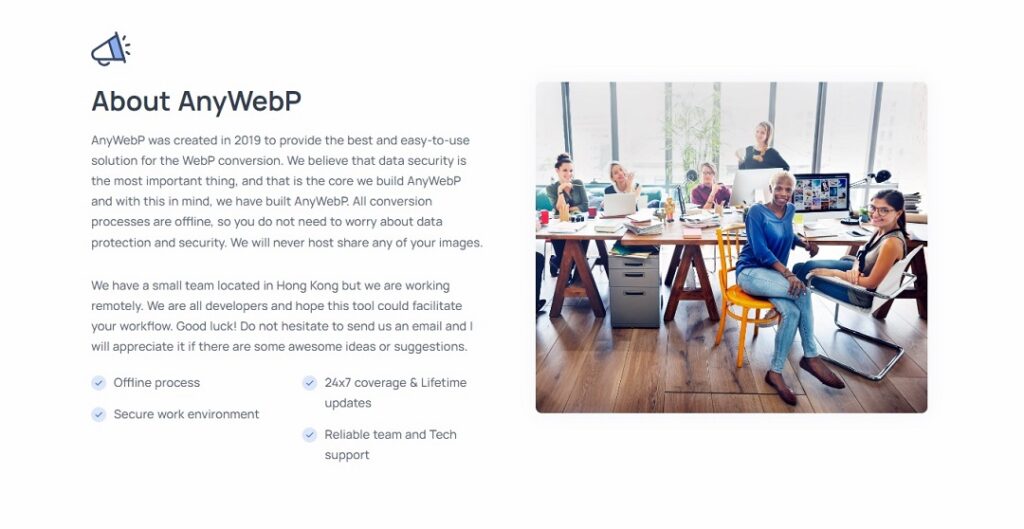 AnyWebp Key Features:
A free webp converter for the web, Windows, and macOS.
Converts webp to jpg or png with simple steps.
Compress the image size while ensuring image quality.
Batch convert webp to png at once to improve your productivity.
Supports many languages.
The use process is straightforward. No advanced skills are required.
There is no watermark on the converted image, which makes the image easy to use and share.
Simple and neat design.
Webp to JPG conversion is 100% free.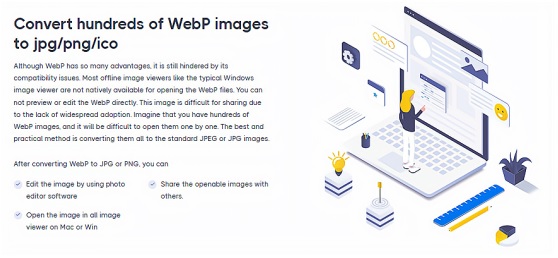 AnyWebp: Steps to Convert Webp to JPG Online
The application enables users to convert their images into formats such as PNG, JPG, GIF, and many more without having any knowledge of programming languages or coding skills. Follow these steps to convert webp to jpg with Anywebp online!
Step 1: Go to AnyWebp.com and drop your webp files into the converter's interface. Note that you can add multiple files if you want to finish batch webp file conversion at once.
Step 2: Once the webp file is uploaded, customize the output features, including formats, quality, and size. For example, if you want to convert webp to jpg and make the converted image 2x than the original, choose "Jpeg" and "2x" from the drop-down menu.
Step 3: Click the "Start" button for a single webp file conversion. Or you can click the "Convert all images" button to do the batch conversion at once.
Step 4: Once the jpg images get ready, save them by hitting "Download."
Batch Convert Image from Webp to JPG on Your Computer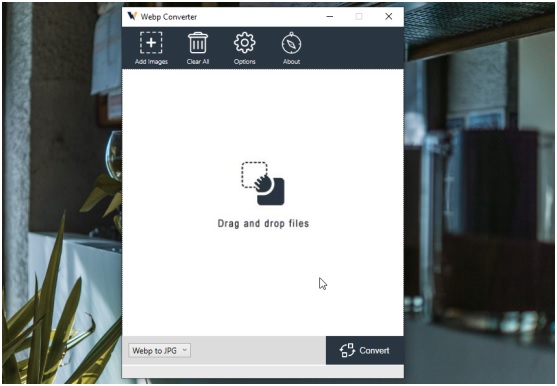 If you prefer offline webp to jpg service, download Anywebp on your computer. You can find the right version on the app's official website. There are the core steps of using Anywebp to convert webp to jpg on your computers:
Step 1: Download the software from Anywebp's official Windows or Mac operating system website.
Step 2: Open Anywebp program on your computer. You can do some basic settings now.
Step 3: Choose the output format, such as PNG, JPG, or ICO. Next, adjust the image quality and size according to your needs.
Step 4: Drag and upload all your Webp files on Anywebp. Then click `Convert All Webp Files.' It takes a couple of seconds to complete the tasks.
Step 5: Export the converted images to your computer.
Pros and Cons of AnyWebp Image Converter
What I Like
A simple and neat interface
Convert multiple files at once
Create High-Quality JPEG With Ease
Supports different devices and systems
Batch image processing features
Convert webp files in a few clicks without any limitations
What I Dislike
There are only three output format options: JPG, PNG, and ICO.
You can only preview the converted image after downloading it.
Price of AnyWebp Image Converter
Anywebp is free to use, with no ads or watermarks on your images. There are no paid upgrades or sign-ups required. It is just an easy-to-use webp to jpg converter that supports the most popular file formats and lets you batch convert multiple images in one go. This free image editing program can be helpful if you run a blog or an e-commerce website.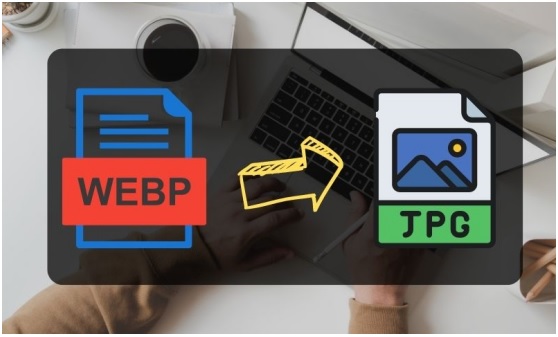 AnyWEBP Image Converter FAQs:
1. Can I bulk convert Webp to jpg without downloading software?
Anywebp online can help. To bulk convert webp to jpg, click the `choose files' tab, drag the images on the dotted area, click on `start conversion' to convert them, and then download the JPG file. Lastly, you can use other editing tools to crop the images, add captions, remove the background, etc.
2. Is a JPG file always better than a Webp file?
While both formats make images smaller and easier to share, the Webp file format makes the images much smaller. According to Google, such images are 25-30% smaller than the original ones.
3. AnyWebp vs. iLoveimg: Which is Better
If you like an all-in-one media file conversion, iLoveimg is right. iLoveimg is a free photo converter and editor that can convert images from one format to another, resize them, and create animated GIFs, collages, photo albums, and video slideshows.
But if you want a webp file converter, Anywebp can meet your needs well. Compared to iLoveimg, AnyWebp is only designed for webp file conversion. It has a simple layout, so you can find the tool you need fast without browsing or searching for what you want from multiple options.
4. How to open a Webp file for view easily?
The easiest way to open a Webp file is on the browser. Drag and drop the image on a new window and right-click on it. If you're using Chrome or Firefox, double-click the image.
Conclusion
AnyWebp is a free webp converter that you can use to convert your images from JPEG to WebP and vice versa. This tool is designed for simplicity, so you only have to upload webp files for conversion. Its simple interface means even those unfamiliar with image editing programs like Photoshop or GIMP can easily use it. AnyWebp supports batch conversion of multiple images at once, making it ideal for people who regularly upload photos on social media sites like Facebook or Instagram.
Read Next: How to Develop a Profitable Software Business Model