Last updated on : March 22nd, 2023 by R Yadav
If you are looking for a clock app that is simple and easy to use, Simple Flip Clock for Mac might be the one for you. This app is designed to provide users with a minimalistic and elegant flip clock display on their desktops. It is perfect for those who prefer a classic and retro look for their clock.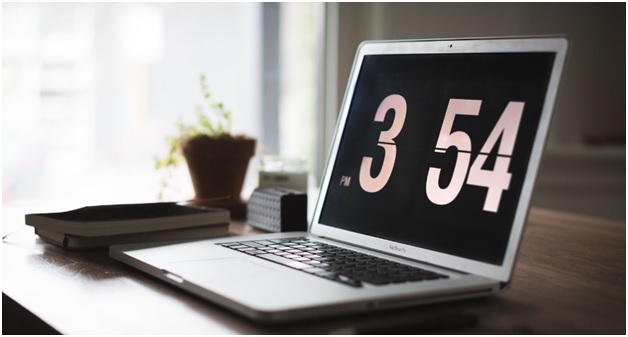 A flip clock app can be a great tool to display time in a fun way and make your desktop a personalized clock wallpaper. This article will walk you through a complete guide to a simple flip clock - FlipClocker. Read the article and get the fast tutorial to set up a clock app on your devices.
Simple Flip Clock: What is it?
Simple flip clock, or Flip Clocker, is a free app for ios, iPadOS, and MacOS. It can display time with different clock styles and time modes. You can turn your mac or iPhone into an animated clock with flipping animations and peaceful sounds. Its beautiful design, practical functions, and minimalist interface make it stand out from the crowd of clock applications.
If you are tired of the same old digital clocks, try this simple flip clock without hesitation. It has many useful built-in features that allow you to customize your clock style. For example, you can replace the solid color background with a picture background. Or you can add white noise as background music to the clock to calm you down.
It is not just a flip clock app to show time with animations. It also offers mini tools like Countdown and Timing to help you keep track of time for specific activities, such as cooking and writing.
Simple Flip Clock for Mac: Key Features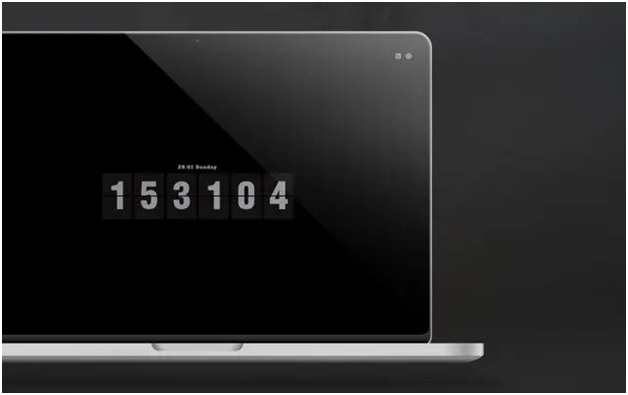 Multiple Clock Styles
You have the option to select from a variety of clock styles, such as number, analog, and flip clocks. Both horizontal and vertical screen modes are available for your convenience.
Customization settings
Personalize the clock's appearance by modifying the text, font, color, and background. You can choose between solid colors or image backgrounds to suit your preferences.
Presets Function
Save time with presets that make matching your clock to your style effortless. You can display or hide seconds, dots, and date information.
Switch Between 12/24-hour modes
Switching between 12 and 24-hour time formats is simple and easy. Additionally, you can show or hide the seconds, dot, or current date to make your clock more personalized.
Sound and White Noise
The flip clock allows you to add sound to a flip clock or an analog clock to fit the current animation. It can also play white noise while showing time, which can help create an immersive environment for your work and study.
Countdown and Timing
This Flip Clock also has countdown and timing services. With the countdown feature, you can keep track of time by counting down from a specific duration. By setting a timer, you can ensure that you complete the task within the given time frame.
Apart from countdowns, the timing service in the flip Clocker also allows you to count the time you spend on a particular task.
Auto-Lock Feature
The Auto-Lock feature guarantees the security and privacy of your device. Once you turn on the Auto-lock button, The clock app will remain active on your screen, and you can access it easily whenever needed. This convenience allows you to use the app without worrying about unlocking your device every time while also maintaining the device's security.
How to Download a Flip Clock on Your Mac?
To set this flip clock as your mac screensaver, follow these steps to get started:
Step 1: Go to Flip Clocker's official website and click "Mac Store" to visit its download page.
Step 2: Make sure that your MacOS is 11.0 or later.
Step 3: Down the app on your mac if you meet the download requirements.
Step 4: Follow the software's instructions to install Flip Clocker.
Step 5: Launch it and make it a full-screen desktop clock on your mac.
Step 6: Customize your clock styles using the built-in features. You can change the background, replace the current text color with another, show/hide the current date, or add white noise to the clock.
Step 7: Click the "Auto-lock" button to keep the app active.
What is Simple Flip Clock Best for?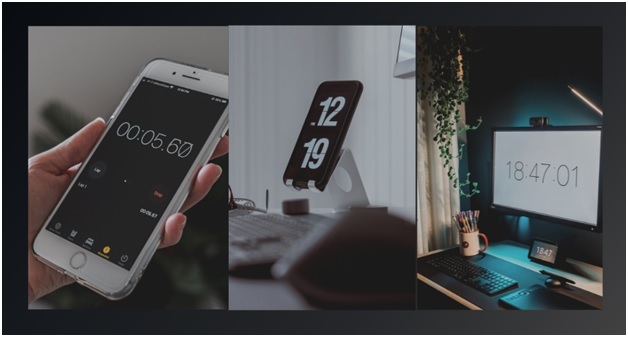 The simple flip clock - flip Clocker, is a beautiful and unique timepiece that has become increasingly popular among those who appreciate simplicity, elegance, and a touch of modernity in their surroundings
It is ideal for people who love retro or vintage clock wallpaper for their interior design. The clock's simple, clean design makes it a perfect fit for any modern home or office space.
In addition, this clock is perfect for people who want an accurate and reliable timekeeping device that does not require any fuss or maintenance.
What makes this flip clock stand out?
The simple flip clock is a digital screensaver popular among those who want to make their mac a desktop clock. It remains the go-to choice for many users. But what makes this app stand out from its competitors?
Minimalistic and Elegant Design
The clock displays a simple black-and-white interface reminiscent of classic flip clocks. This design departs from some of its competitors' flashy and complex structures. The simplicity of the design makes it easy to read the time without any distractions, and it fits perfectly on any desktop background.
Customization Options
Users can choose from different clock styles, sizes, and color options. In addition, it also allows users to switch between 12-hour and 24-hour modes, add white noise as a music background to the clock, and display time in landscape mode. All these features allow users to personalize the screensaver to their preference.
Supports cross-platform use
This flip clock app supports many platforms, including iOS, iPadOS, MacOS, and the Web. You can enjoy this clock screensaver whenever you want without device limitations.
Simple Flip Clock FAQs:
Is this free flip clock available on iPhone?
Yes, this flip clock app is also available for iPhone. You can search "Simple Flip Clock - FlipClocker" on the app store and download the correct version.
Can I use it online without downloading software?
Indeed, you can use this free online clock without installing it. Flip Clocker can be used effortlessly online, enabling you to utilize all its functions, including displaying the time, converting time zones, tracking world time, playing white noise, and more. As long as you have a good internet connection, you'll enjoy the same high-quality user experience.
Does it support an alarm clock?
No, this clock does not have an alarm clock feature. It only offers countdown and timing services now. But this is an upcoming feature that the developers are working on adding to the app.
Can I Use It as a Time Zone Converter?
Of course, you can! This flip clock's online version has a time zone converting feature. You can reclaim time zones based on your local time. It shows a drop-down menu where you can choose the time zone you want to know. This feature lets you manage your time and schedule your work well.
Conclusion
Simple Flip Clock for Mac is a clock app designed to provide a minimalistic and elegant flip clock display on the desktop. It offers different clock styles, customization settings, preset functions and 12/24-hour modes. The app can also play white noise while showing time and offers mini-tools like countdown and timing to help users keep track of time for specific activities. The Auto-Lock feature allows users to use the app without worrying about unlocking their device every time, ensuring security and privacy. Simple Flip Clock is ideal for people who love retro or vintage clock wallpaper for their interior design.
Read Also: How to use dental software to improve patient recall and preventive care management