Last updated on : June 18th, 2020 by R Yadav
AOMEI Backupper
Free Backup Software | Protect Your System & Data|Multiple backup Option| Freeware
We save a lot of data on our PCs, such as working documents, family photos, favorite music, and games, etc. Some data are of great importance to us and we can't afford to lose them. You may think PCs are a safe place to hold all your data.
However, the truth is not like that. Your data may be lost because of:
Virus or hack attack.
System crash.
Hard disk failure.
Human errors.
Natural disaster.
"AOMEI Backupper is a state-of-the-art simple backup tool for small businesses and personal users for free. It has a good solution for Data Backup, Protection, Disk Clone, Create Bootable Rescue Media and images, etc. with one click"- R.Yadav, TechFeral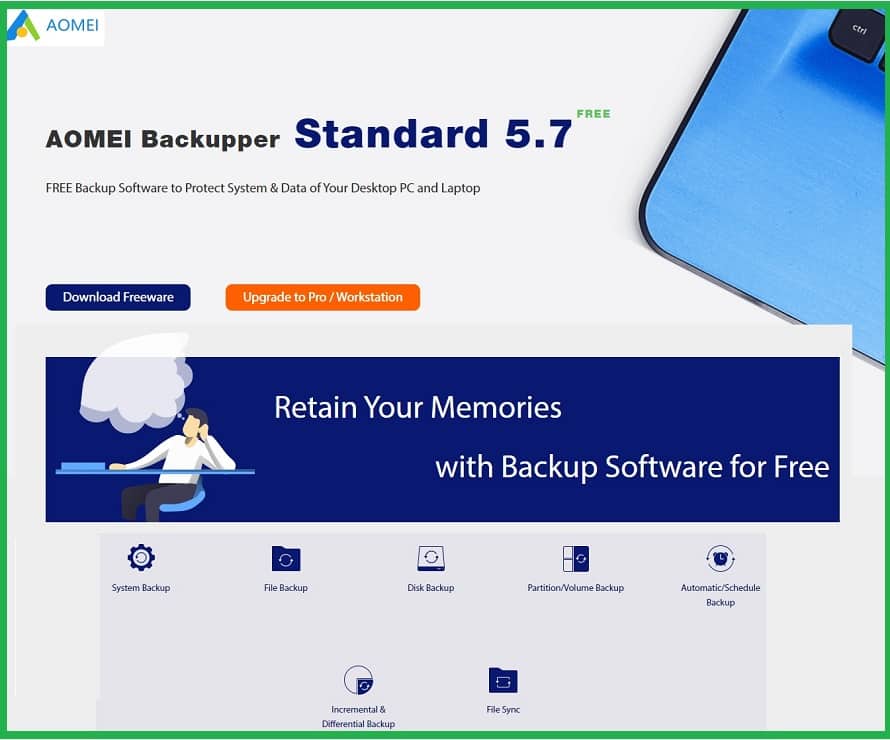 You can imagine how painful it is if your precious family memories or vital financial statements are gone. One solution to retrieve your data is to take your device to a data recovery center and let professionals deal with it. Nevertheless, you may pay a high price for the service.
Is there a more convenient or cheaper way to recover deleted or damaged data? Backup is the answer. If you have made a backup before accidents occur, you can restore damaged or deleted files easily from the backup image.
Then, what's the best way to back up your crucial data? The best free backup software - AOMEI Backupper can do you a favor.
AOMEI Backupper provides the simplest backup service for Windows users. You can benefit a lot from its powerful features.
There are five backup types offered in AOMEI Backupper:
System Backup: you are allowed to create a system image for Windows 10/8.1/8/7/Vista/XP.
Disk Backup: you are able to backup hard disk drives (HDDs), solid-state drives (SSDs), USB flash drives, SD cards and so on to an image file.
Partition Backup: you can image an NTFS partition, FAT32 partition, Ext4 partition, etc.
File Backup: you are able to back up selected files or folders to an image file.
File Sync: you can synchronize files from one place to another, such as sync local folders to OneDrive. AOMEI Backupper will perform 1:1 copy, no image files created.
AOMEI Backupper supports backing up to different places. Each of them has merits and faults. You may choose the most suitable backup location according to your own situation.
Local disk: it's easy to access but the image files saved on it can be damaged too in case of computer errors.
External hard drive: the image files are safe from computer errors. However, you should repetitively connect and disconnect the drive if you create backups on a regular basis.
Network location: it evades the drawbacks of the first two backup destinations. The only restriction is that your computer should be connected to the Internet.
Cloud drive: it can protect your files from system crashes or hard disk failures and the files are accessible anywhere with an Internet connection. The shortcoming is that most cloud services only offer a few gigabytes of space for free.
AOMEI Backupper offers abundant backup options which can meet your different needs:
Backup schedule: you can set a frequency for your backup tasks to run, like daily, weekly or monthly. It will help to keep your image files up-to-date and save time and efforts for you.
Backup method: you are able to perform full backup, incremental backup, and differential backup. If you select incremental backup or differential backup, AOMEI Backupper will back up only changed data based on last backup. Both incremental backup and differential backup can help to improve backup efficiency and reduce the storage space taken by image files.
Other options: you are allowed to compress image files so as to save storage space. You can also split large image files to smaller ones so that they can be stored on USB flash drives.
Take disk backup as an example. Follow the instructions below to backup all data and files on your computer hard drive to an external drive:
Connect the external hard drive to your PC and ensure it is recognized. Download, install, and run the free backup program.
Click "Backup" and select "Disk Backup" on the right side.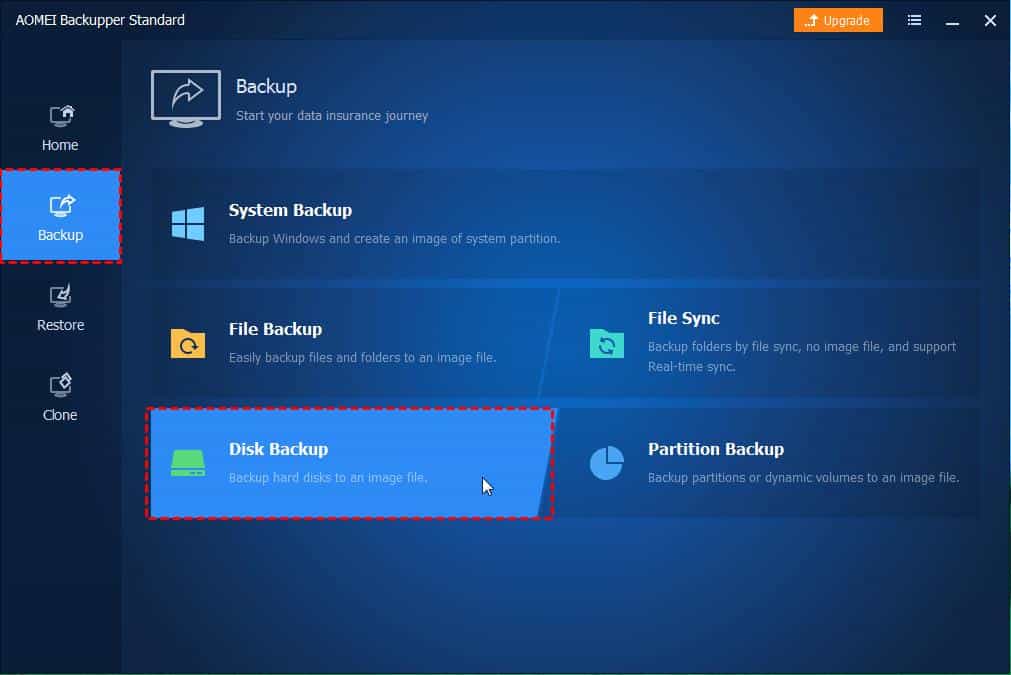 Click "Add Disk" to select your computer hard drive to be backed up.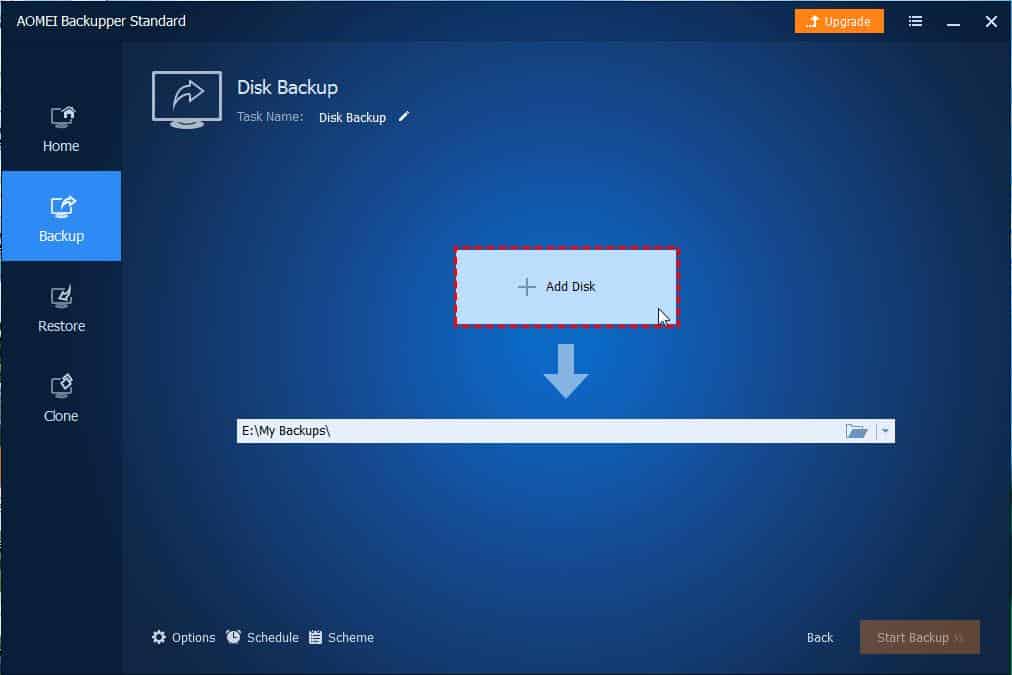 Click the column under "Add Disk" to select the external drive as the destination path to store the backup image.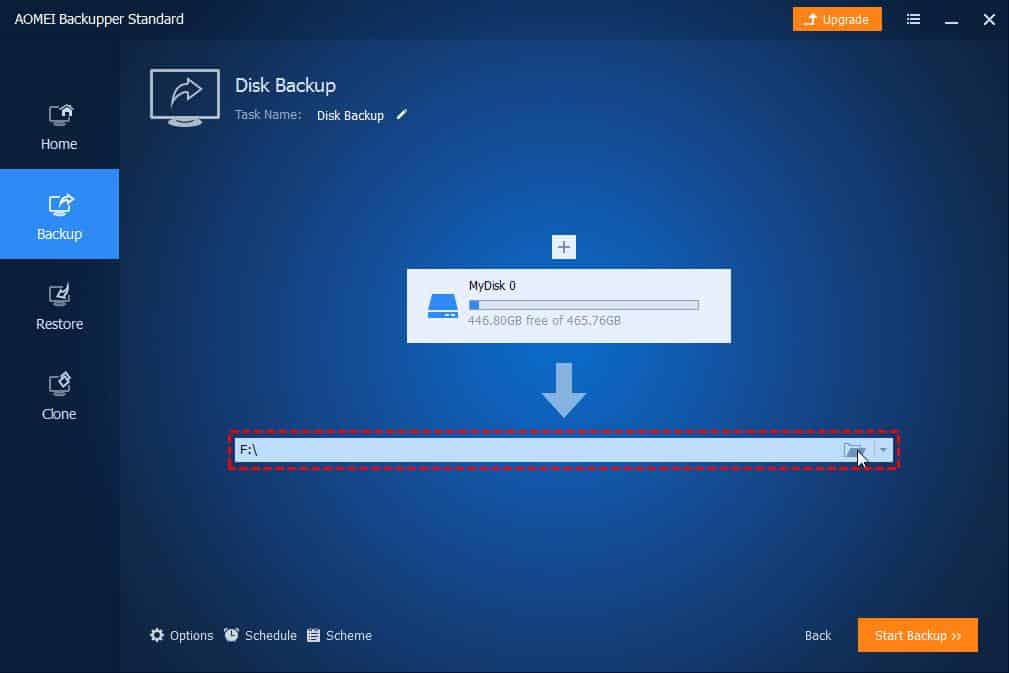 (Optional) Click "Schedule" at the lower-left corner to set the backup frequency.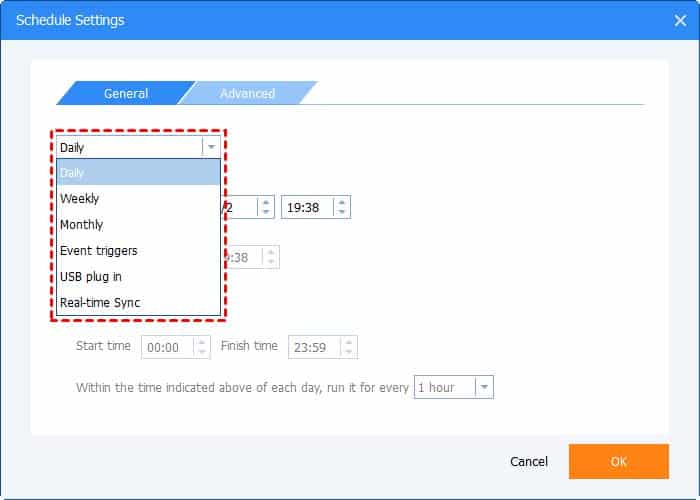 Click "Start Backup" to begin backing up your computer data to the external drive.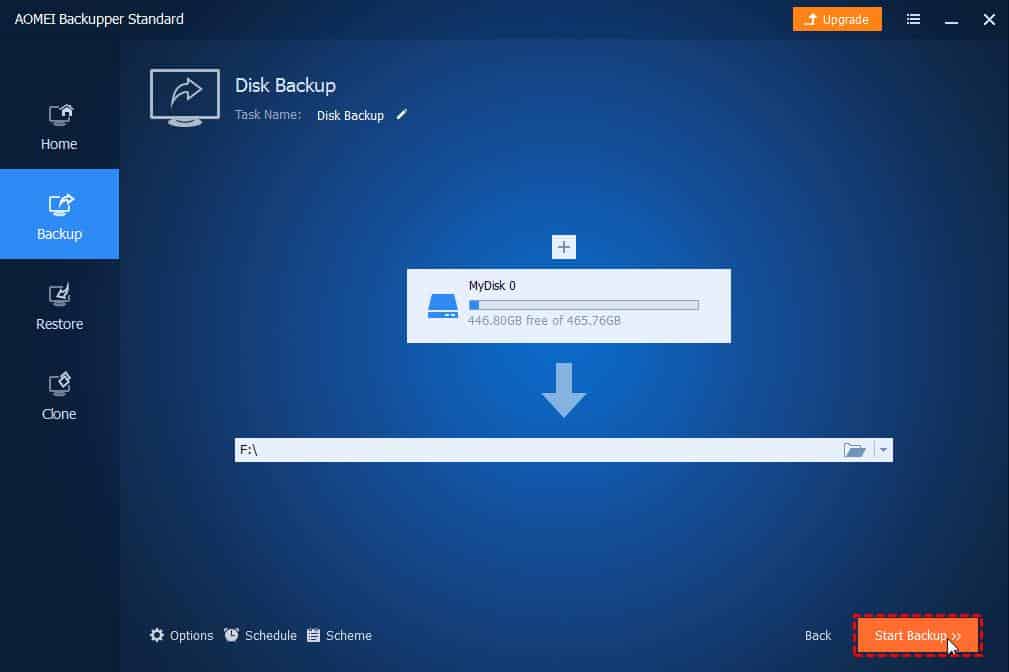 To protect your precious data from possible errors, it is suggested to create backups. AOMEI Backupper is the best Windows backup software you can resort to.
It enables you to create backups for the operating system, an internal or external disk, a particular partition as well as selective files or folders, and you can restore them whenever you need them. What's more, it has a user-friendly interface. All you need to do are a few clicks!.