Last updated on : November 29th, 2021 by R Yadav
GetMega is a popular online real money gaming platform that offers fun games to play with friends and families on video chat. With a highly interactive user interface and all the real and verified user profiles, it offers real challenging games to the players and takes the excitement level to the next level when players are involved in different games or tournaments.
In this article, we will be studying some interesting differences between Getmega and other popular gaming apps and how GetMega Vs Competitors has become a popular trend.
Some best features of Getmega
Smooth deposits and instant withdrawal facility for the users
24X7 user support
Exciting leaderboards
100% Real and Verified profiles
100% safe and secure
Getmega supports vertical and horizontal gameplay platforms in which there are different varieties of games such as carrom, rummy, poker, pool, and a lot more.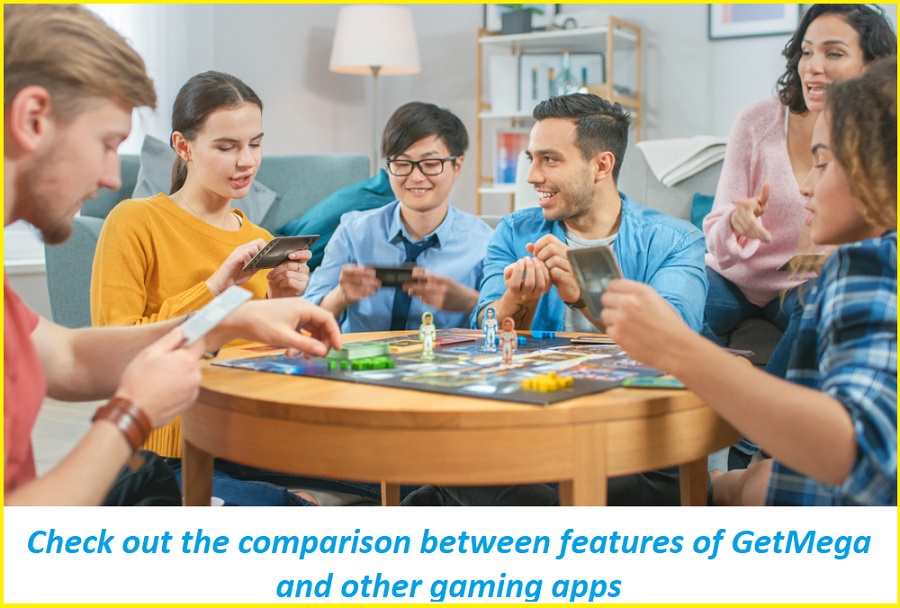 GetMega Vs Competitors list includes some popular platforms in comparison.
Dolostar Vs GetMega
Dolostar uses a clear and easy-to-understand leaderboard to keep track of one and one competitor's rankings. The leaderboard is available to view 24*7 but only professional players can evaluate their ranks as the leaderboard isn't task-based. The one on the top of the leaderboard wins the game.
GetMega has 24*7 leaderboards for the card and casual games such as poker, rummy, etc. and the leaderboards are task-based as well as winning-based. Players up to 10th rank win the prizes such as gold coins, mobile phones, etc by winning or just playing. Entry to the leaderboards is very easy and because of its attractive user interface and user experience, people love to play their games on this gaming platform.
Bingo club Vs GetMega
Bingo club is a well-known casual gaming app that offers an amazing leaderboard to everyone. The outcome of the game is reflected on the leaderboard and based on the achievements, one can check out the scores. Players compete for the higher rankings on the leaderboard and the leaderboard is reflected based on tasks accomplished and winning strategies.
GetMega has 24X7 leaderboards for the games and the leaderboard is of 2 types, task-based and winning-based. The leaderboards are hourly, called flashed leaderboards, and also daily, weekly, and monthly. Also, with the app being registered with RNG and being a member of All India Gaming Federation
Real cash games Vs GetMega
Real cash game is a platform that has a leaderboard, where players can check their ranks. The scoreboard considers winning as well as task completion while allotting ranks. It helps you grow to a professional-level player, though it doesn't have a 24*7 leaderboard choice. Even if you lose a game, it gives you a chance to finish the game.
GetMega ha 24*7 scoreboards and leaderboards based on the task as well as winning. Leaderboards are hourly, daily, weekly,and monthly. You can top the leaderboard by both winning or simply playing. Players up to rank 10th weekly earn up to 100,000 and various other gadgets. Out of GetMega Vs Competitors, GetMega always stands out with unique features.
Adda52 Vs GetMega
Adda52 has a leaderboard that is an attribute to your skill and your efforts to get to the top. The different choice of games keeps the users engaged and gives them the opportunity to win exciting rewards. However, the users find the user experience a bit complex while playing the games, which makes their fun a bit faded.
With a wide range of gaming options, the leaderboard of GetMega keeps updating itself on a quick frequency. The user interface of Getmega is its USP and users love to play different games here. With the gameplay available in both horizontal and vertical layout, users get a chance to compete with the best players from the league and stand a chance to win exciting cash rewards. The sign up bonus is also very attractive for the users.
Rummy circle VS GetMega
When we talk about the GetMega Vs Competitors, Rummy Circle is a name that also stands in competition with Getmega. It has a very appealing leaderboard that makes players come back again to have a wonderful experience. The leaderboards aren't just for wealthy people and games can be played day or night with a real money account in Indian rupees. Data and personal information is given a high priority in this gaming app.
In GetMega, the user gets 24X7 customer support and helps in solving all types of issues at the earliest. Getmega offers 2 types of leaderboards and is updated on a very frequent basis. It ensures 100% privacy to all its users and all the financial transactions are completely safe and secure, giving the user a wonderful experience.
Conclusion:
Thus, it can be concluded that GetMega is an amazing platform that helps you to become a professional player and with its unique attributes, it stands out and attracts more people. Out of GetMega vs Competitors, Getmega stands ahead because of its amazing features, attractive cash prizes and most importantly, the safety while playing online. Download the app and begin to explore amazing games today.
Next article: Top 5 Best Proven JPG to PDF Converter App for Android